Get ready to have your opinion on spiders drastically altered! Even though it may seem strange to pair the phrases "cute" and "spider," we are here to show that lovable arachnids do exist. Discover the top 9 cutest jumping spiders in the world as we take you on a fun journey. These small critters will win you over with their adorable characteristics and intriguing actions. Prepare to savor the magnetic allure of these adorable creatures. 
Cute Jumping Spiders: General Characteristics
Jumping spiders are cute! Yes, you heard it right. They are part of a family called Salticidae, with over 6000 species worldwide! Here are some reasons why they are so adorable: 
Big Eyes:

Jumping spiders have four pairs of eyes, and their large, front pair is especially cute. They use them to spot prey from a distance, giving them a focused and curious look.

 

Bright Colors:

Many jumping spiders come in bright colors and dazzling patterns. Their vibrant designs add to their appeal.

 

Tiny Size:

These spiders are small and delicate. They can range from 0.04 to 0.98 inches (1 to 25mm) long. Their small size makes them look more adorable than threatening.

 
The Unusual Cuteness of Jumping Spiders
Some might find it unusual to describe spiders as cute, but jumping spiders are an exception. What makes them so different? 
Firstly, their movement is quite charming. These spiders don't build webs but are active hunters that stalk and pounce on their prey, just like a cat! Their peculiar style of moving around by jumping can often resemble a dance. 
Secondly, their behavior is rather cute. They're known to be very curious and even interactive with humans. Some spider-lovers have reported that jumping spiders seem to observe them back, making them look very alert and attentive.
Views more: Jumping Spider Intelligence (How Smart Are Jumping Spiders)
Peacock Spider – Maratus volans (Top #9)
Let's kick off our list with the incredibly beautiful Peacock Spider or Maratus volans. Native to Australia, this species is known for its intricate mating dance.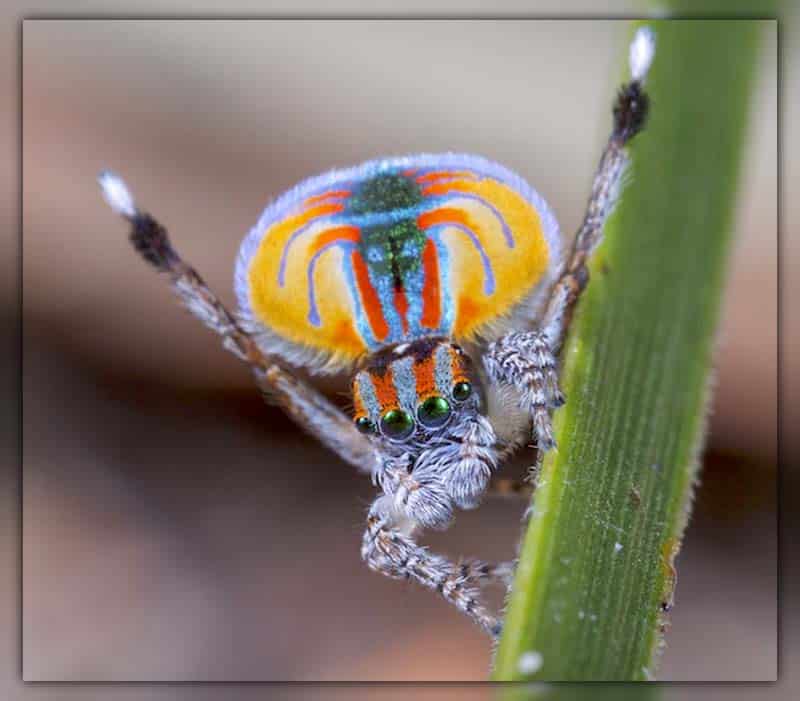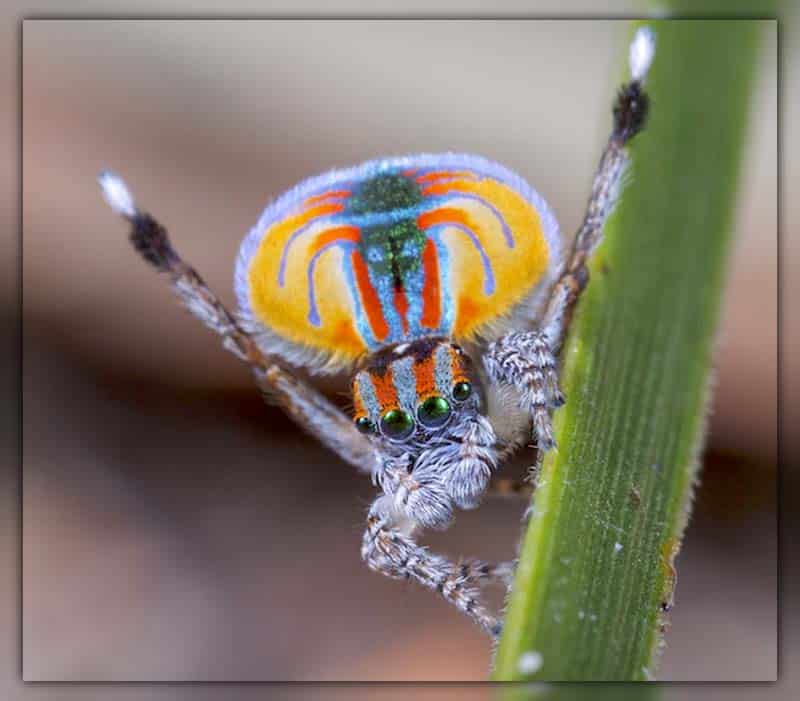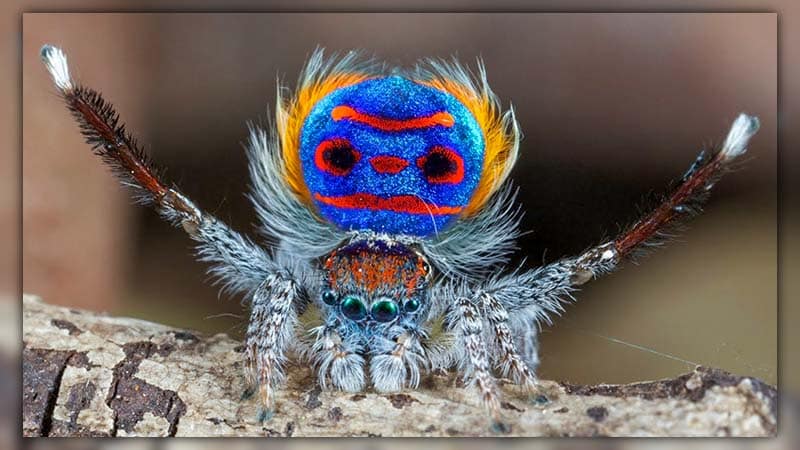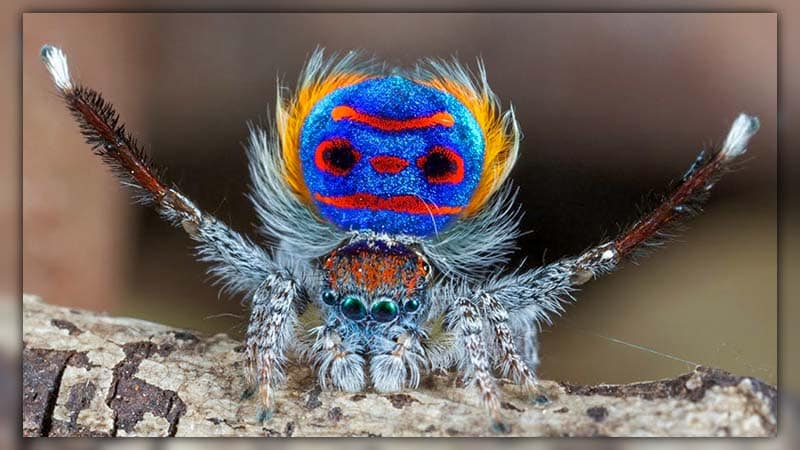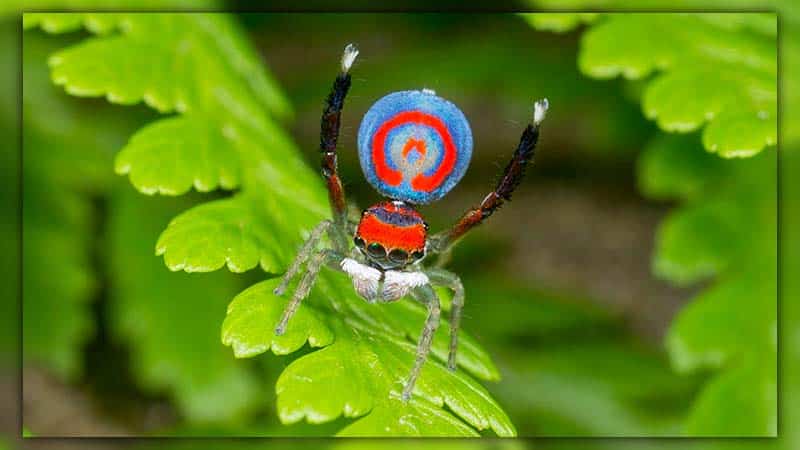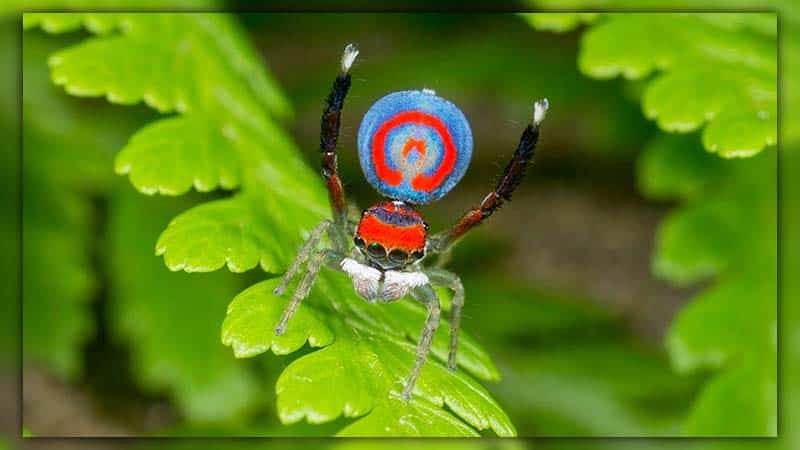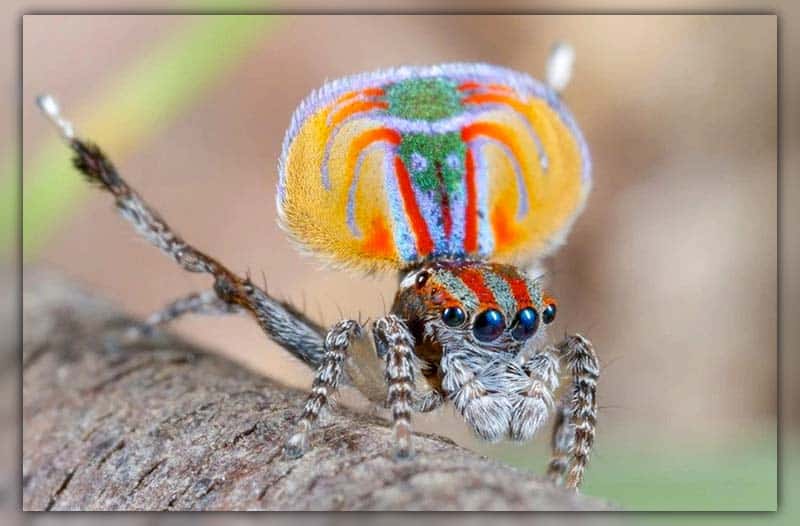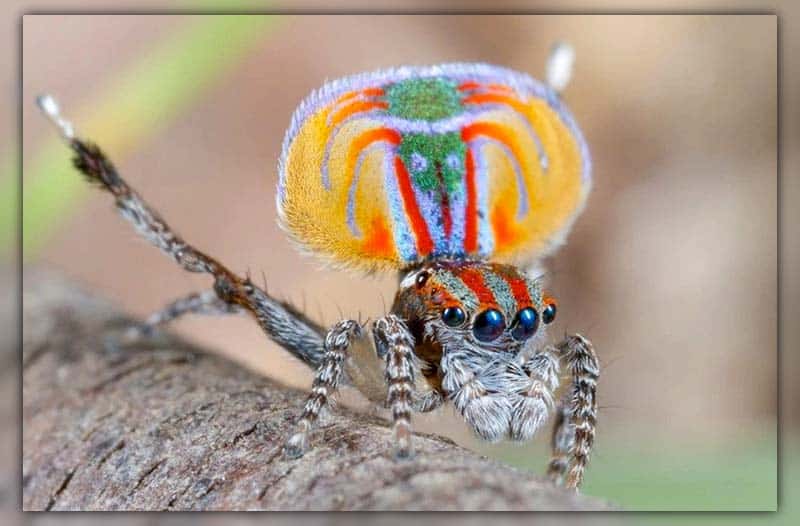 Male Peacock Spiders showcase a fabulous display, just like a peacock. They lift their brightly colored abdominal flap and dance to win over the females. Their large eyes, vibrant colors, and fascinating behavior easily make them one of the cutest jumping spiders in the world. 
Zebra Jumping Spider – Salticus scenicus (Top #8)
Hold on to your socks because the Zebra Jumping Spider, or Salticus scenicus, is coming in at number eight! Just like zebras, they sport a black and white pattern that's hard to resist. You can often find them on walls, fences, and tree trunks, looking at you with their big eyes full of curiosity.
Read more: How Many Eyes Do Jumping Spiders Have?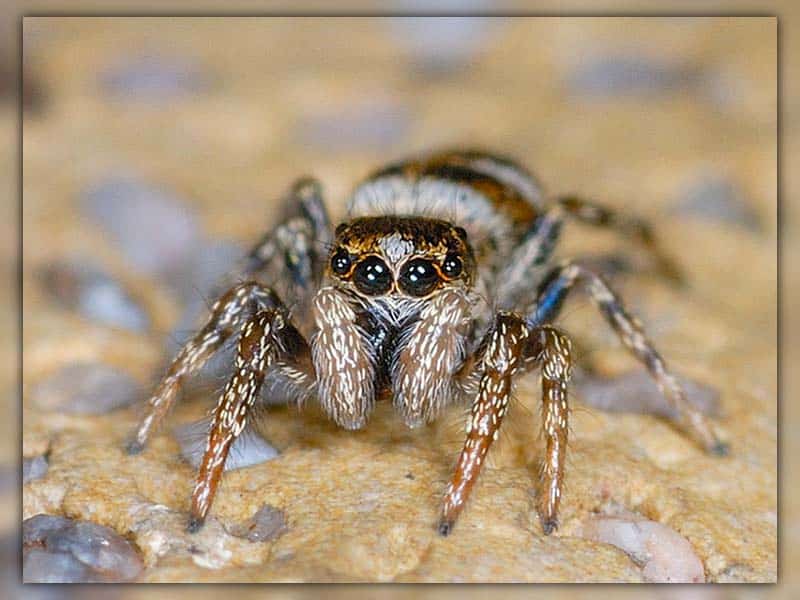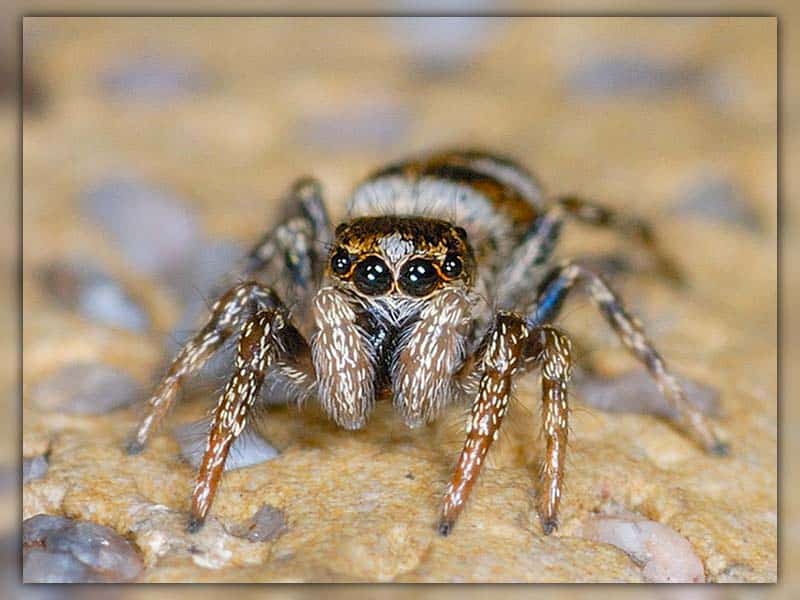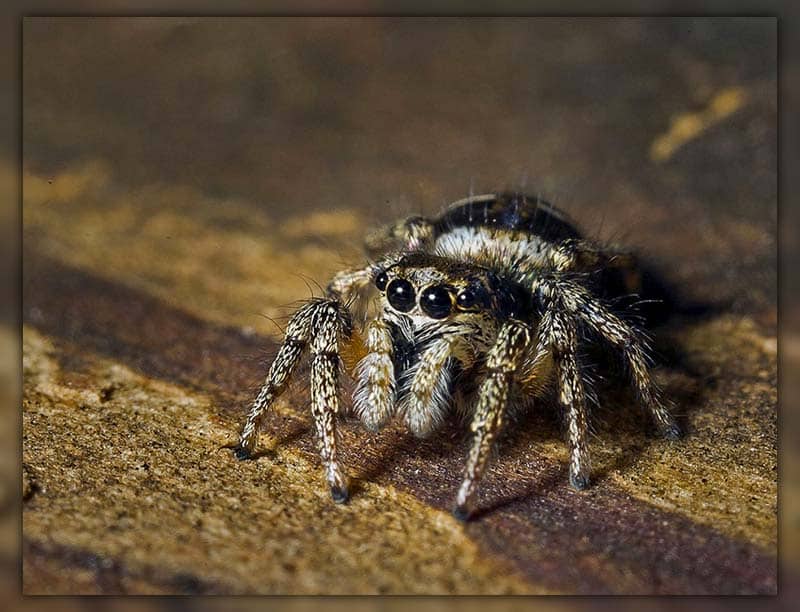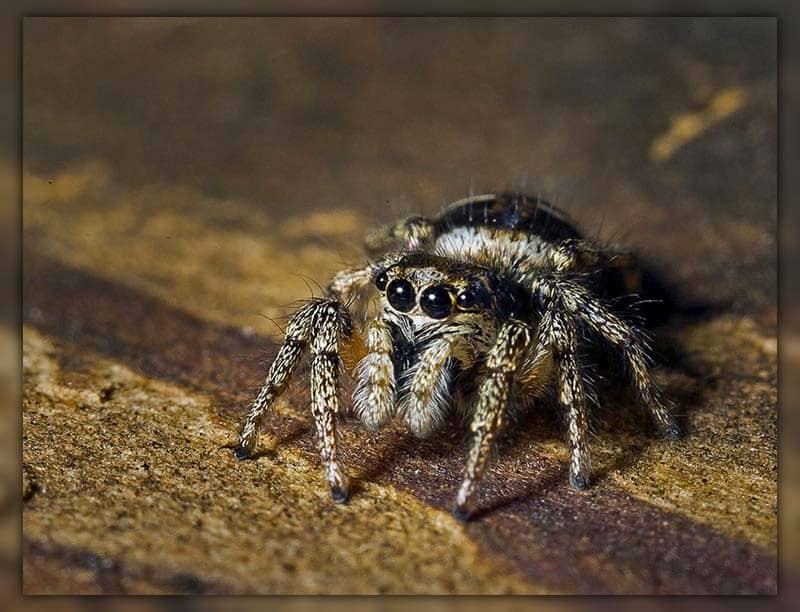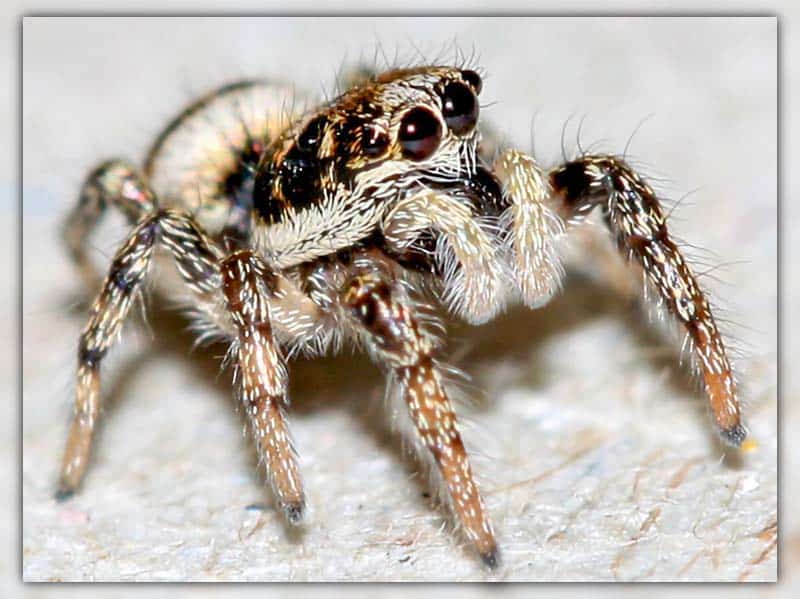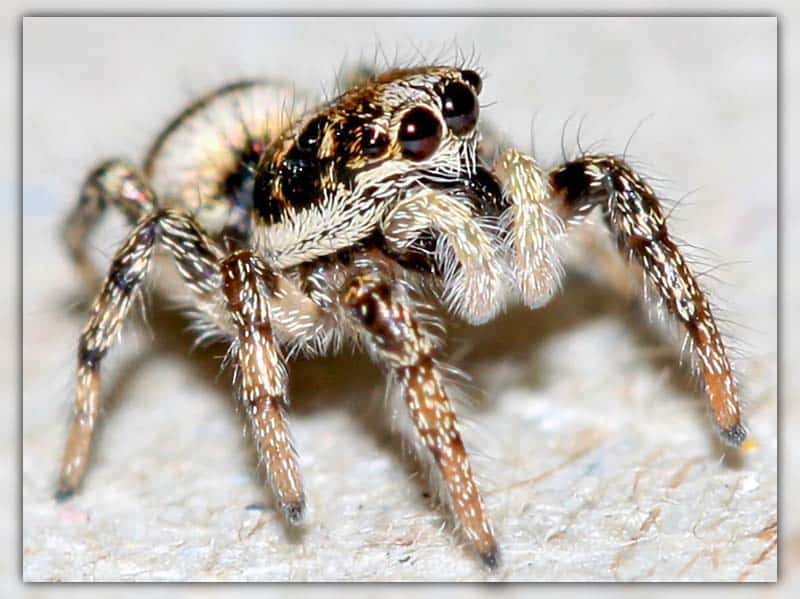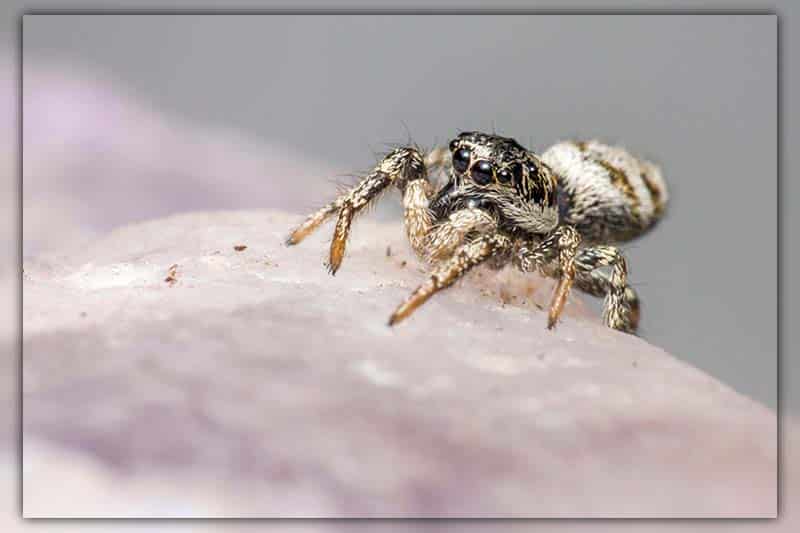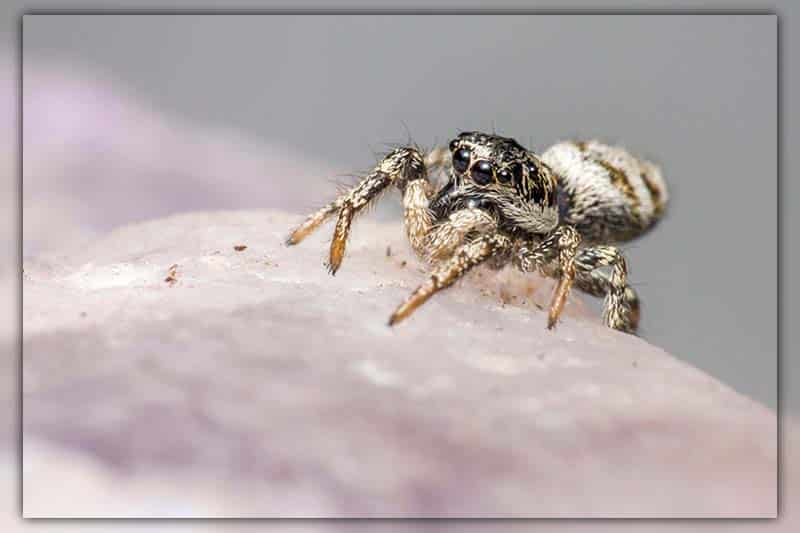 These little critters are most commonly found in North America and Europe. They are famous for their remarkable ability to track and stalk their prey with precision. However, what makes them really stand out is their irresistible cuteness! The distinctive zebra-like stripes are a cute fashion statement in the spider world. 
Fringed Jumping Spider – Portia fimbriata (Top #7)
Next up on our list is the Fringed Jumping Spider or Portia fimbriata. If there was a beauty pageant in the spider world, the Fringed Jumping Spider would surely win! They're commonly found in Southeast Asia and are especially known for their intelligence. 
This cute jumping spider species is not just all about looks; they are smart hunters too. They carefully plan their hunting strategies and can even solve problems! Their impressive cognitive abilities, coupled with their distinct look – fringed legs and an elongated face – give them a unique appeal.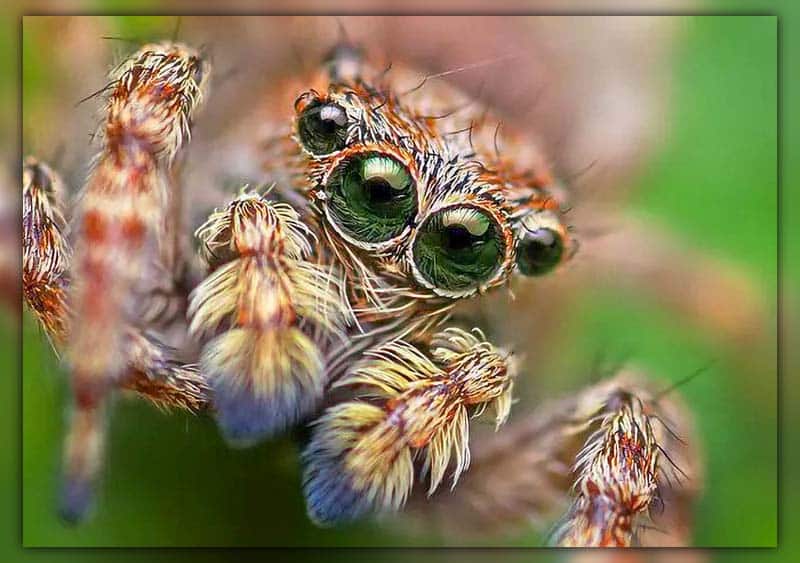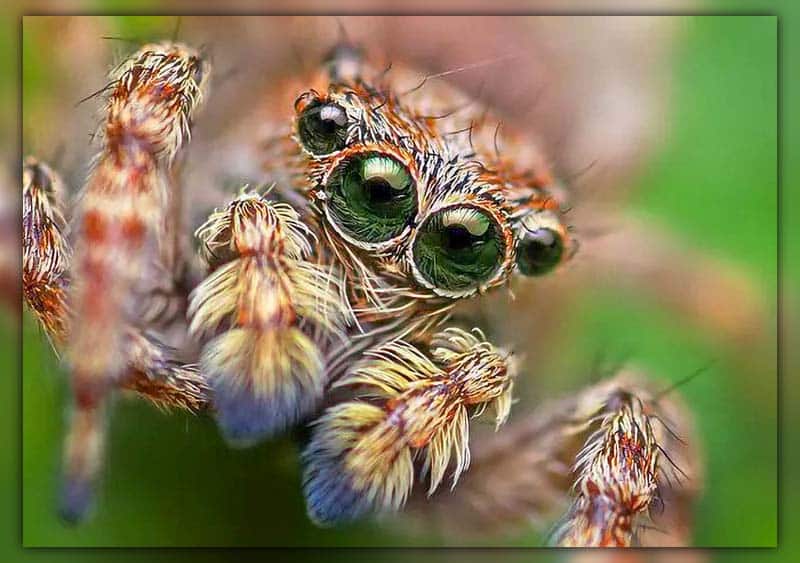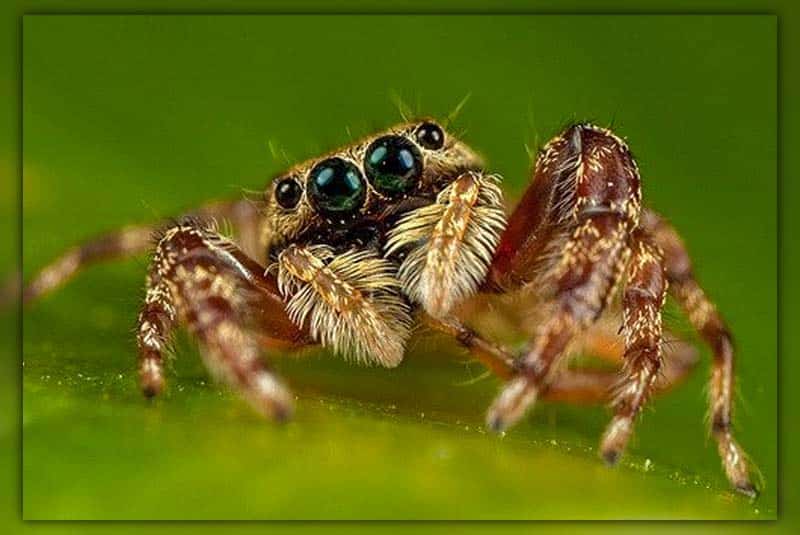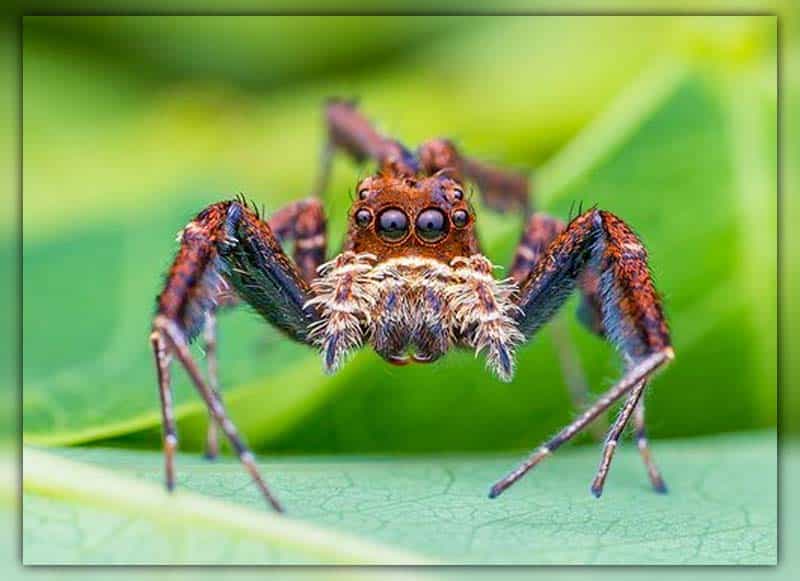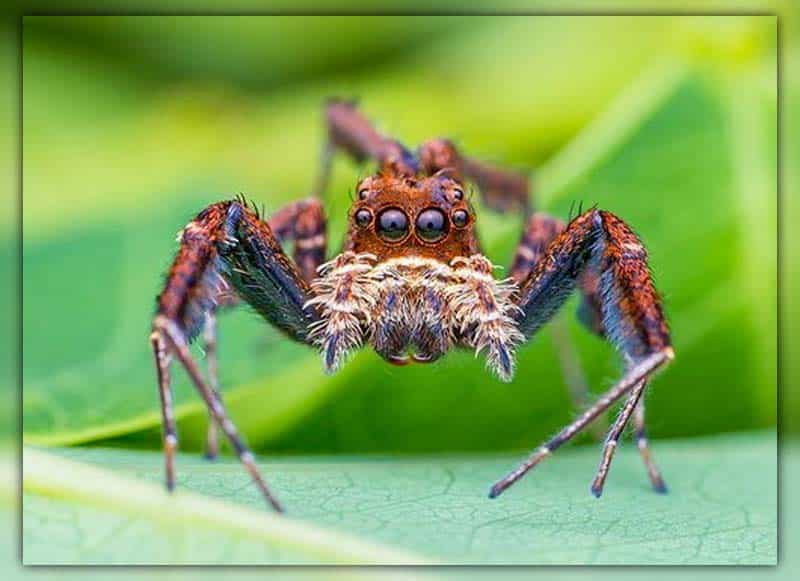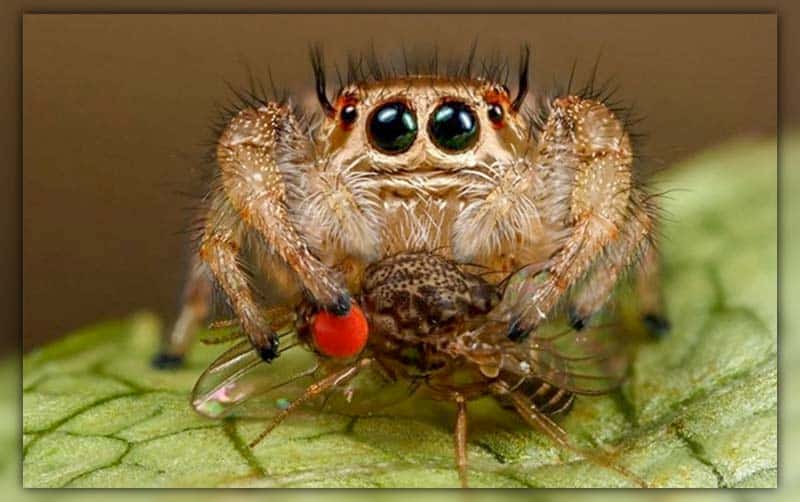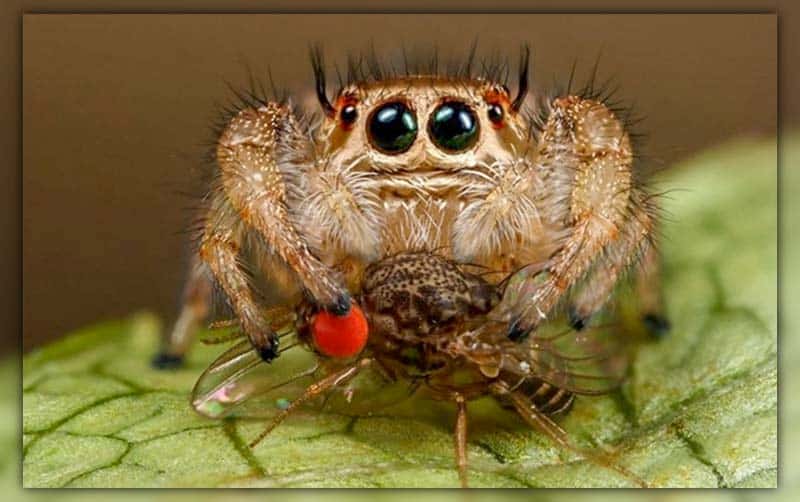 If you ever see a Fringed Jumping Spider, be sure to take a moment to admire its cute, intricate design. Their detailed look is a reminder of the incredible diversity of nature. 
Heavy Jumping Spider – Hyllus diardi (Top #6)
And now, make way for the heavyweight champion – the Heavy Jumping Spider or Hyllus diardi. This is one of the largest species of jumping spiders, reaching up to 0.59 inches (15mm) in body length. They are commonly found in Southeast Asia.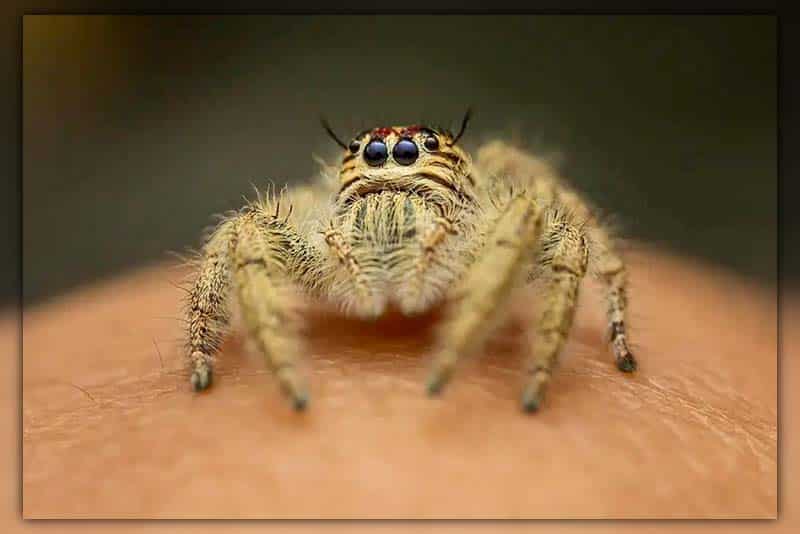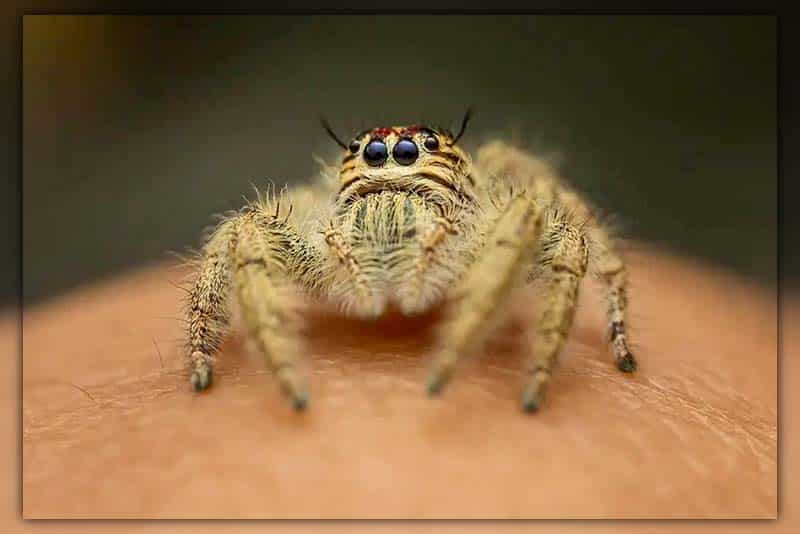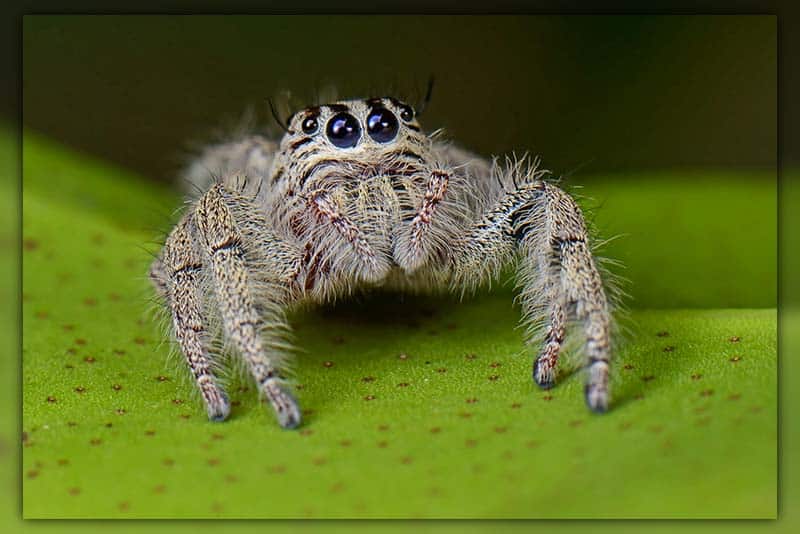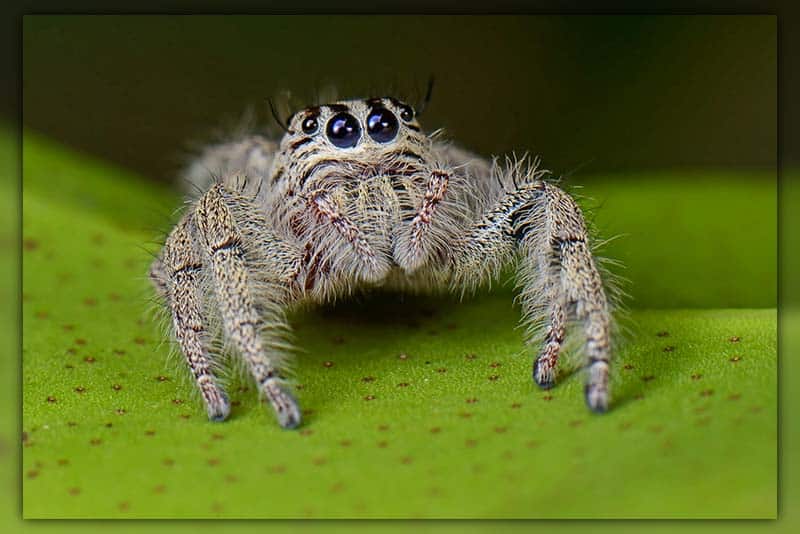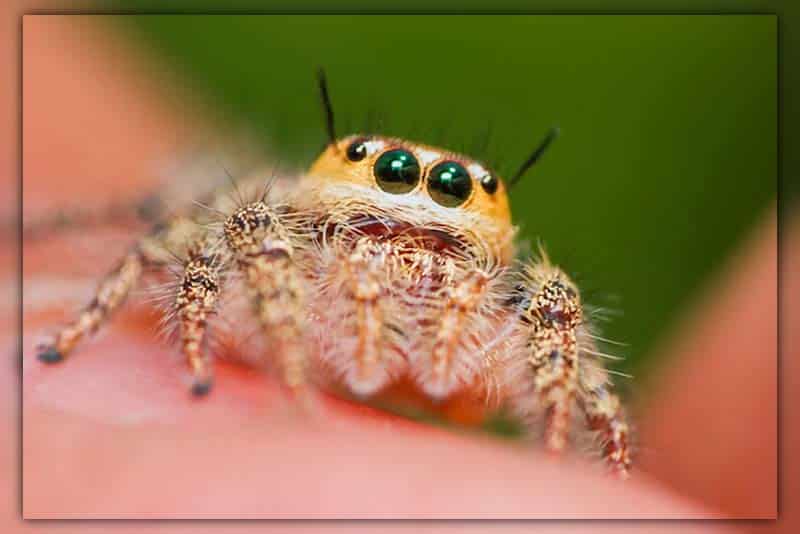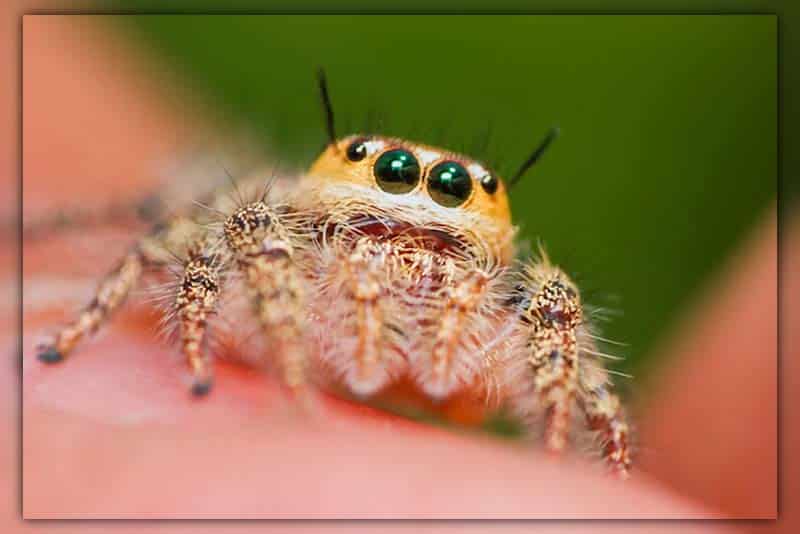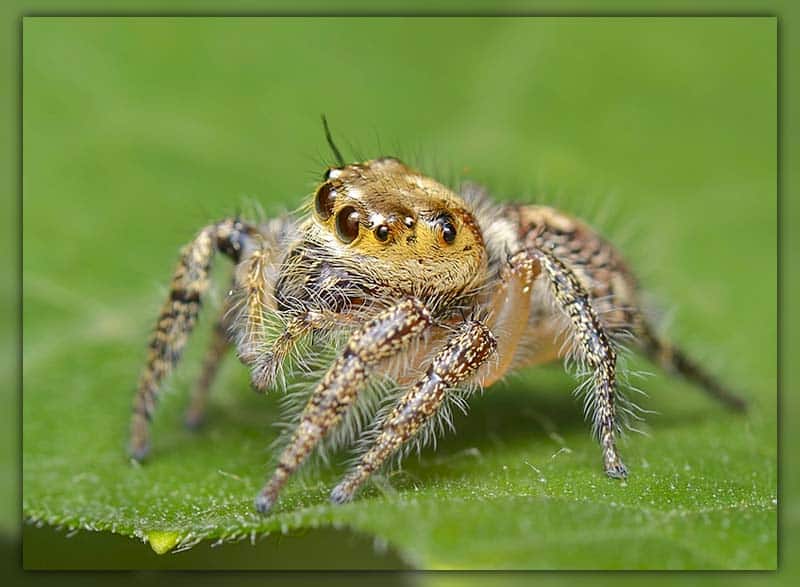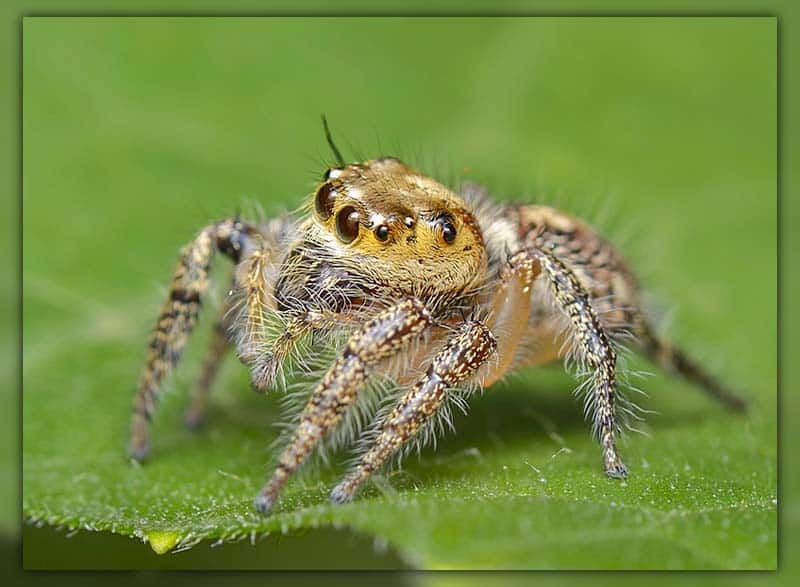 What's so cute about this spider, you might ask? Well, their size is not the only impressive thing about them. They have a robust structure, with strong, thick legs, but their big, round eyes give them an endearing expression. When you spot one, you'll see a spider that appears strong and cute at the same time – quite an unusual combination! 
Emerald Jumping Spider – Mopsus mormon (Top #5)
Mopsus mormon, also known as the Emerald Jumping Spider, is a sight to behold. Ranked fifth in our list, this particular species is known for its vibrant green color. Originating from Australia, it is also one of the largest jumping spiders, making it quite noticeable.
The combination of its striking emerald color and bold behavior makes it truly captivating. This spider is a true emerald gem in the world of spiders. Its intense color, combined with its dramatic mating dance, gives the Emerald Jumping Spider a spot in the top 5 cutest jumping spiders.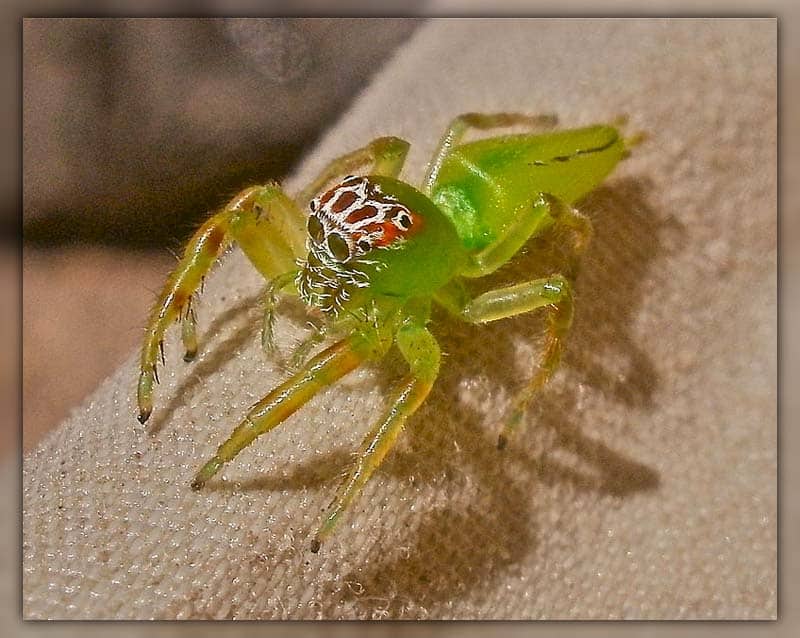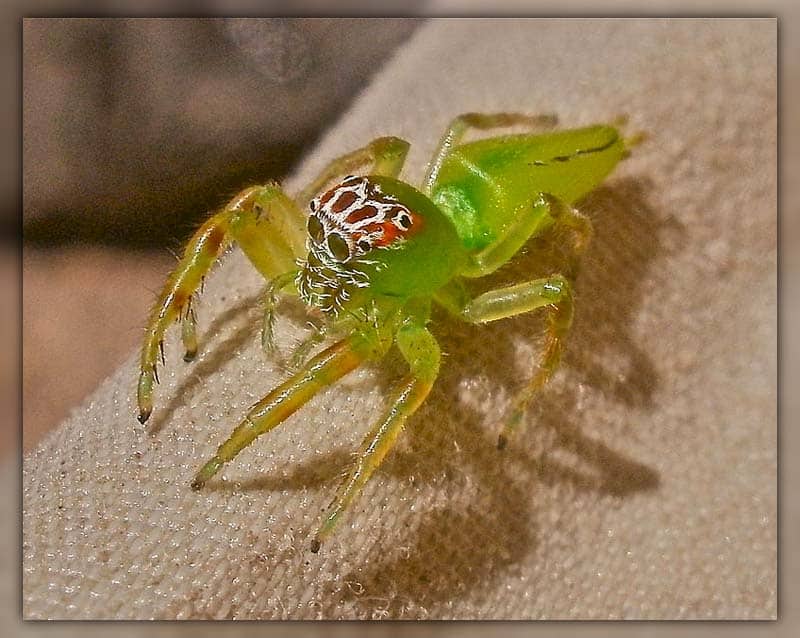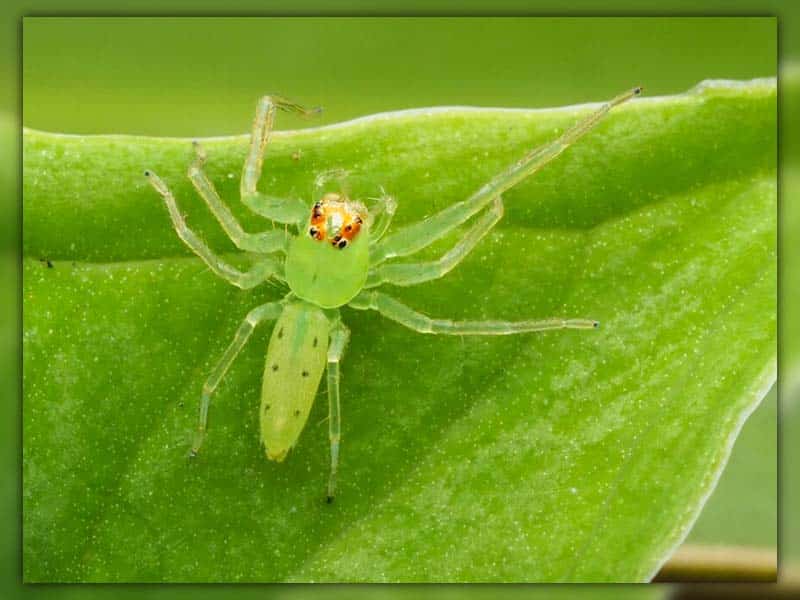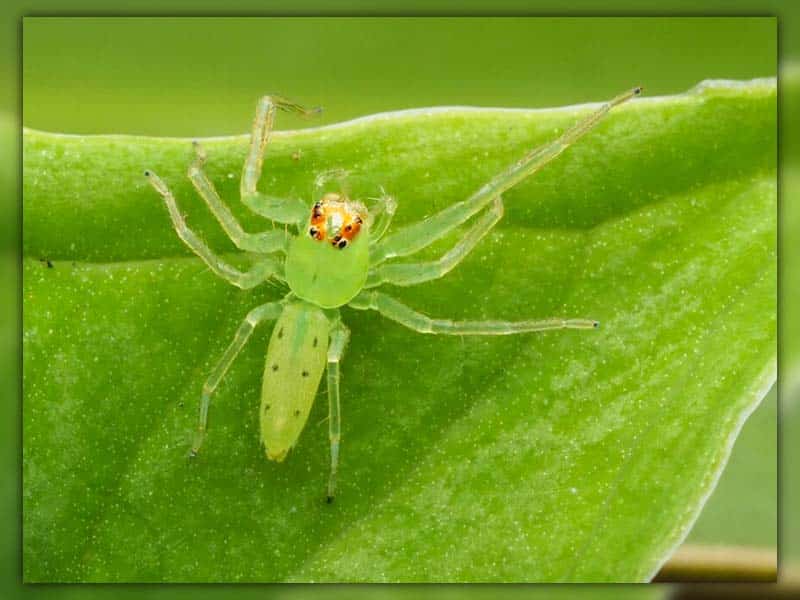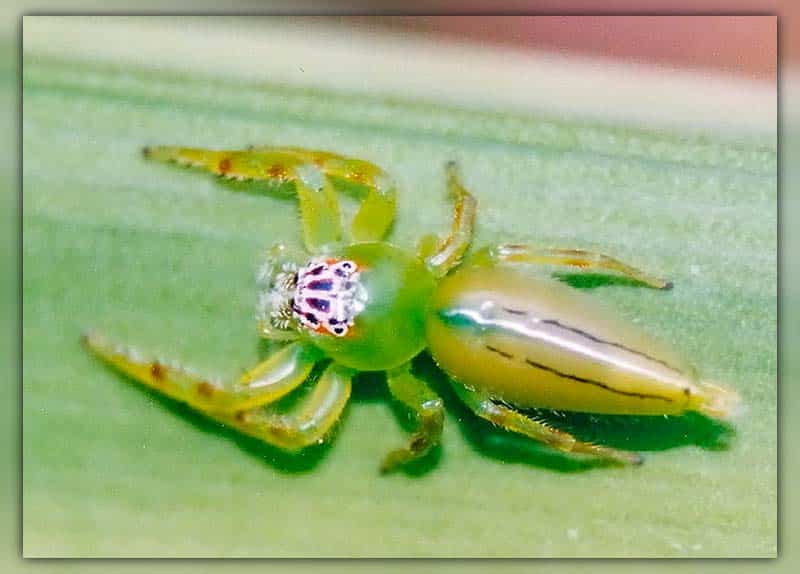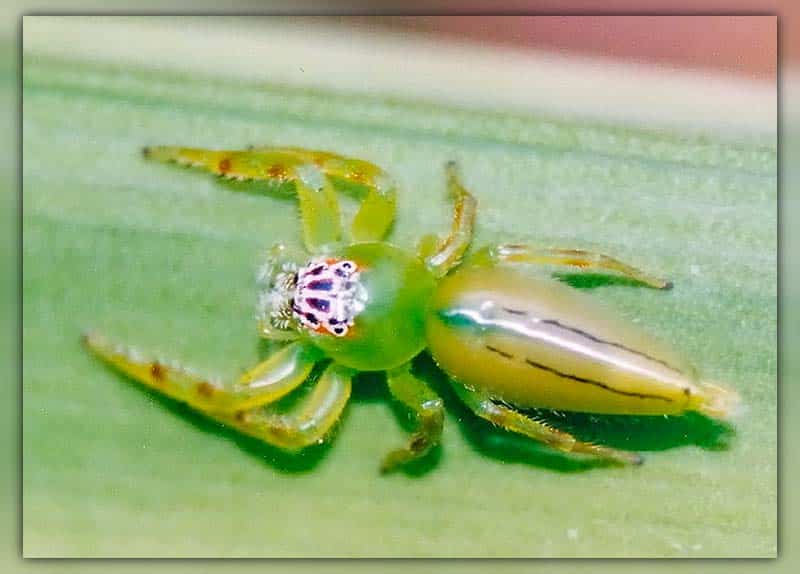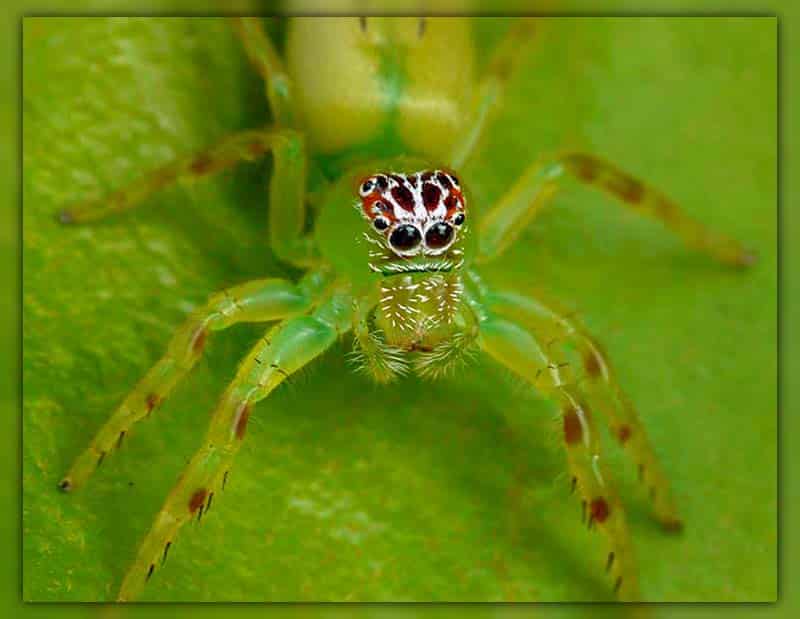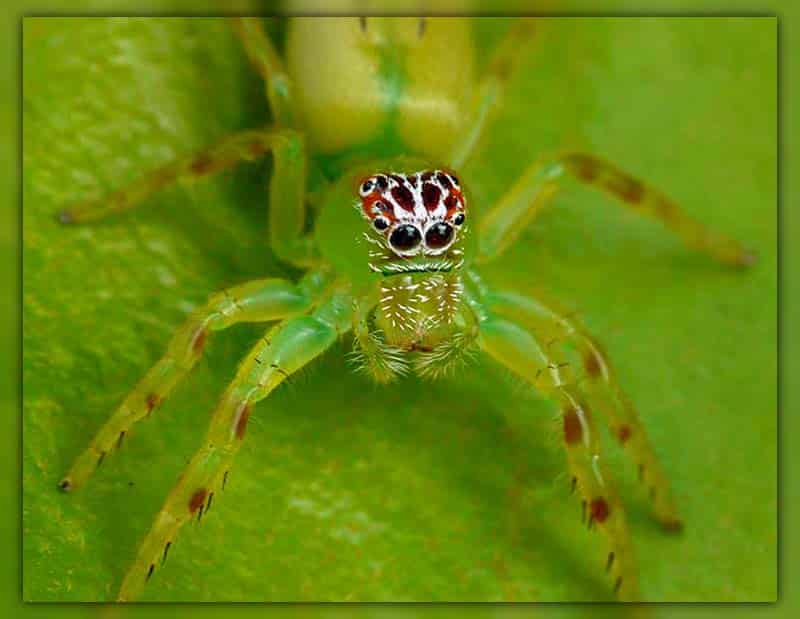 Bronze Jumper – Eris militaris (Top #4)
Next on our list is the adorable Bronze Jumper, or Eris militaris. These spiders are most common in North America and are recognized by their stunning bronze color and bold jumping ability.
The Bronze Jumper's metallic sheen is absolutely eye-catching, and it is this characteristic that has earned them their name. When the sunlight hits their body, they shine like a little, cute piece of jewelry. Combined with their agile movements, they are a true spectacle to behold in the spider world.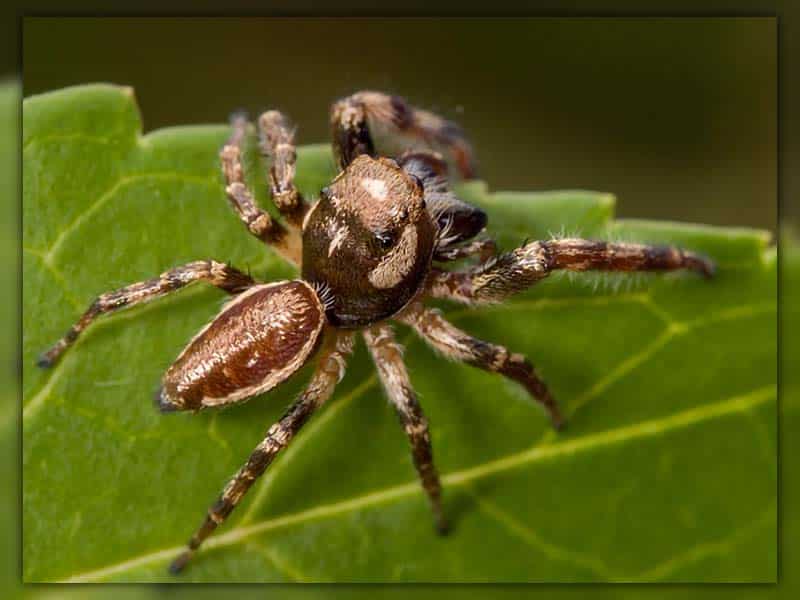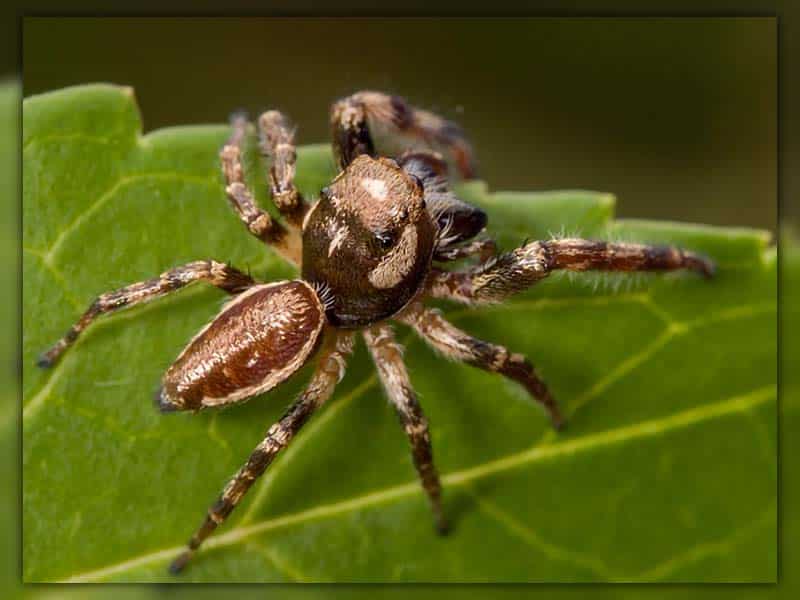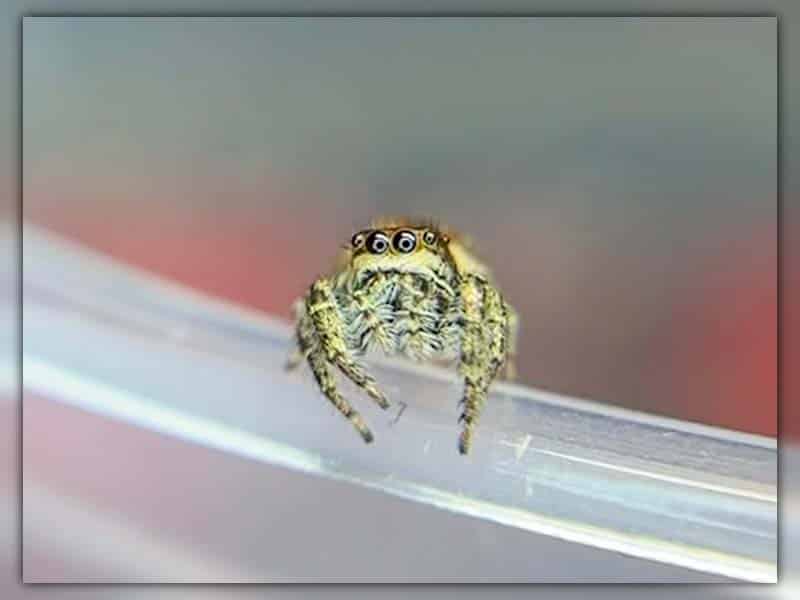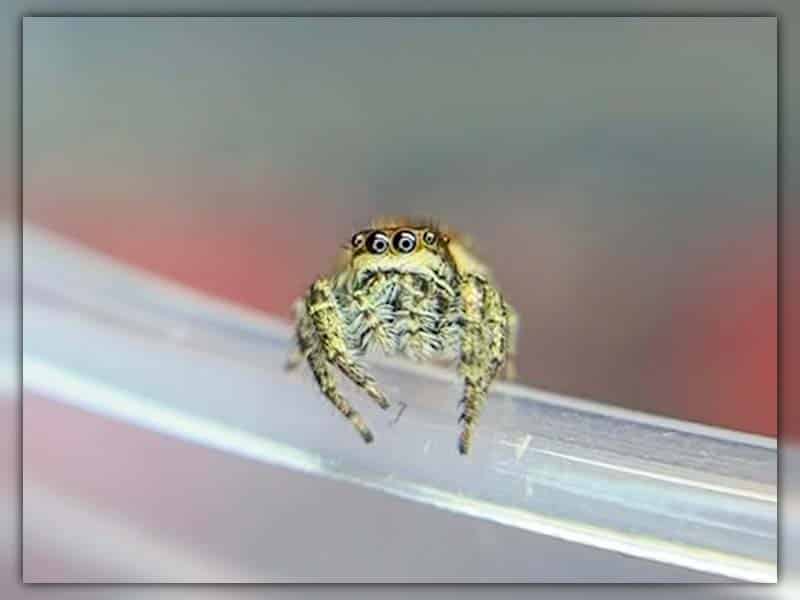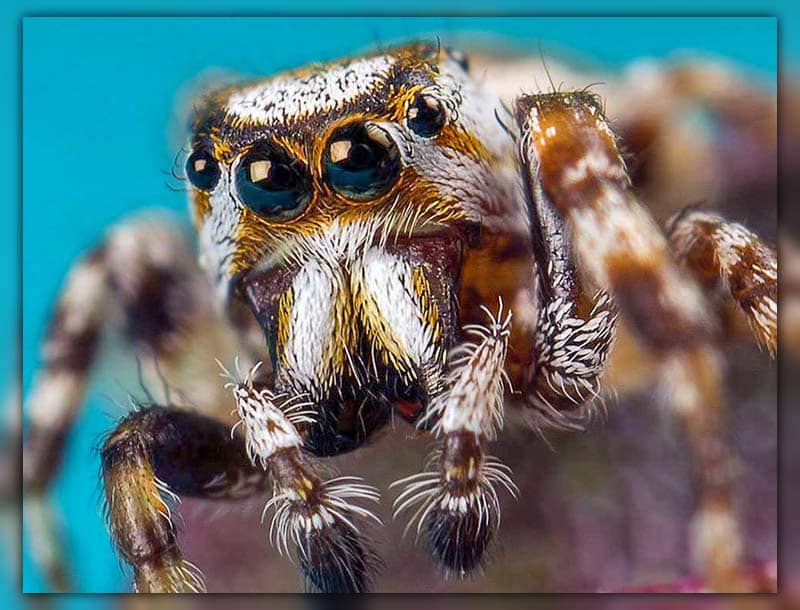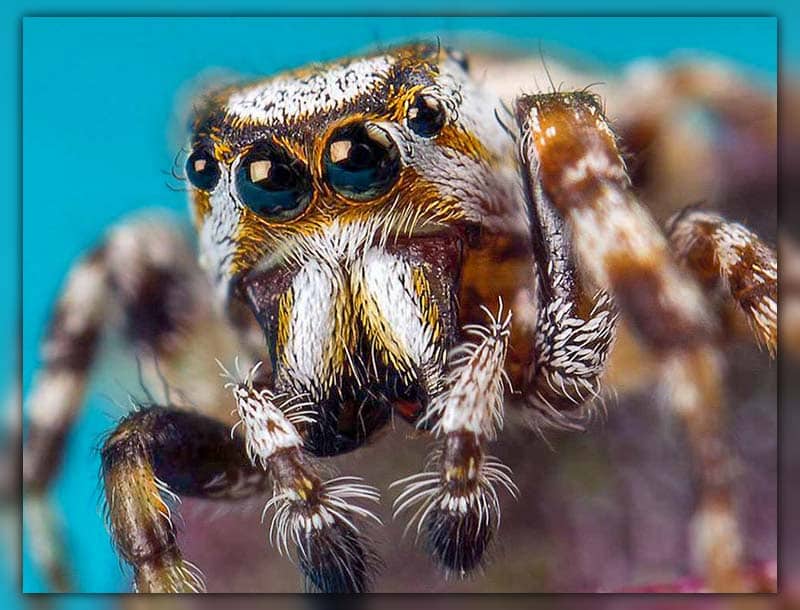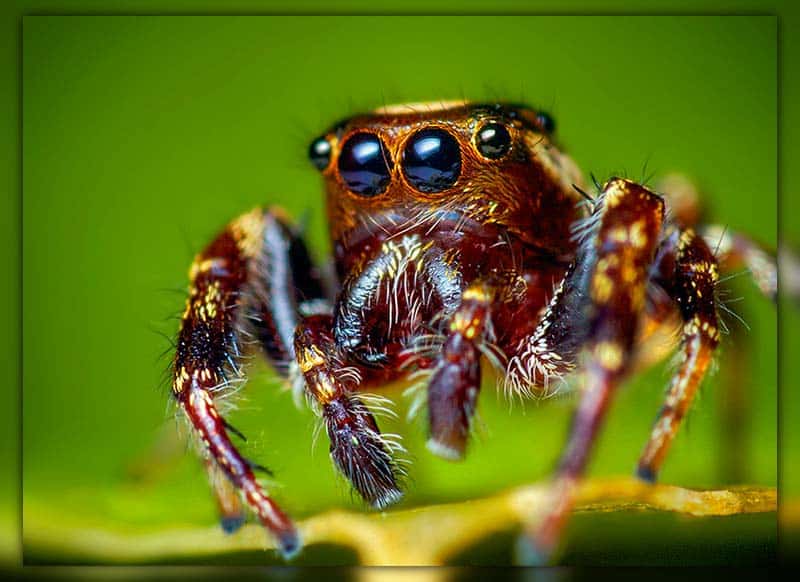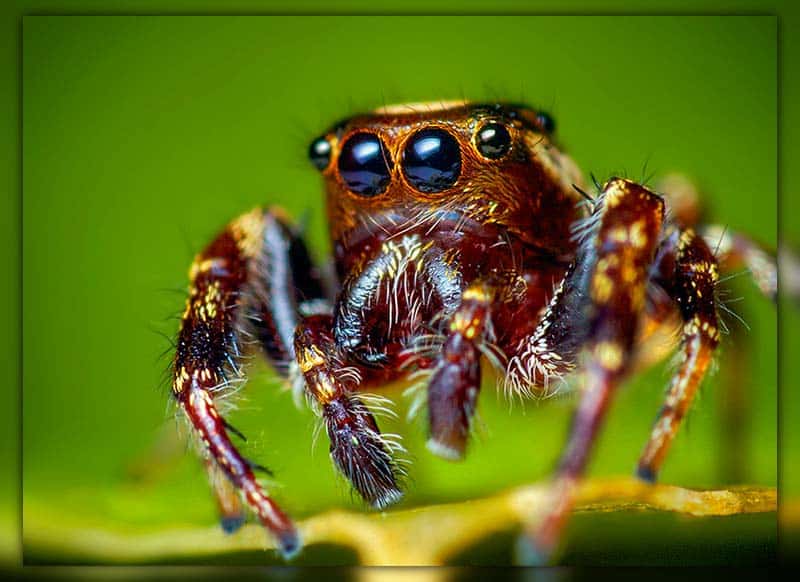 Sparklemuffin Jumping Spider – Maratus jactatus (Top #3)
At number three, we have the amazingly cute Sparklemuffin Jumping Spider, scientifically known as Maratus jactatus. This cute spider can be found in Eastern Australia and was discovered only recently, in 2015. 
The Sparklemuffin is an absolute heart-stealer with its vibrant colors and amazing patterns. The males are especially flamboyant with their richly colored and patterned flaps which they display during their mating dances. There's no denying it; the Sparklemuffin is one of the cutest jumping spiders you'll ever see!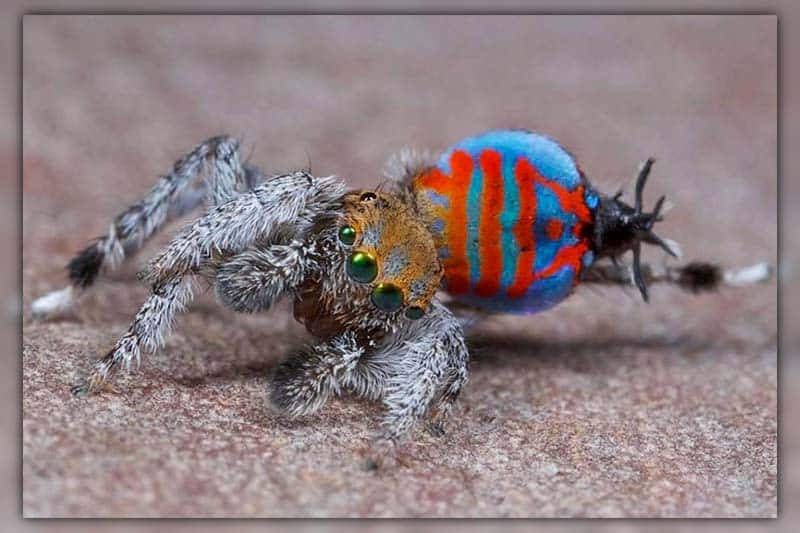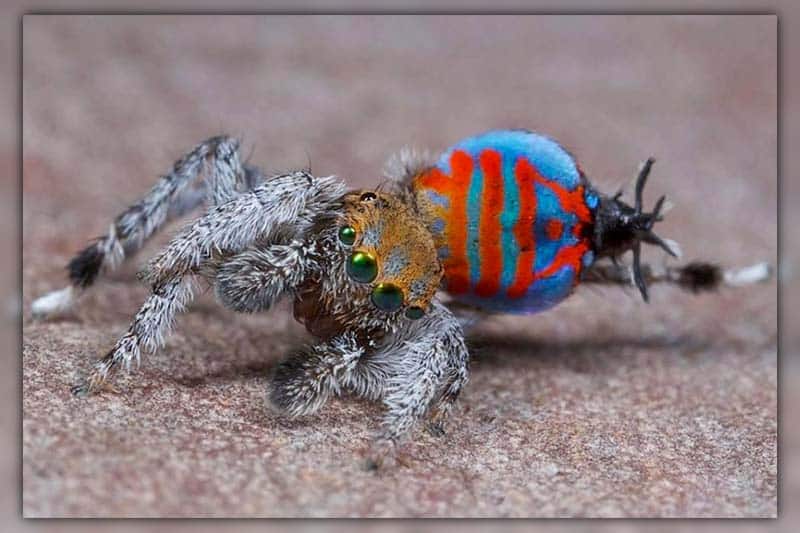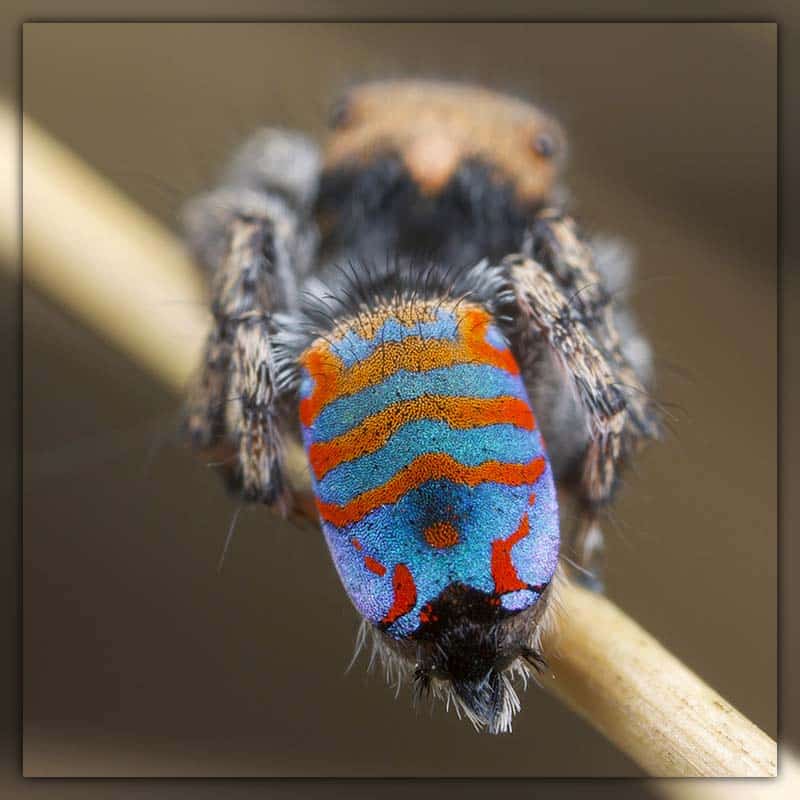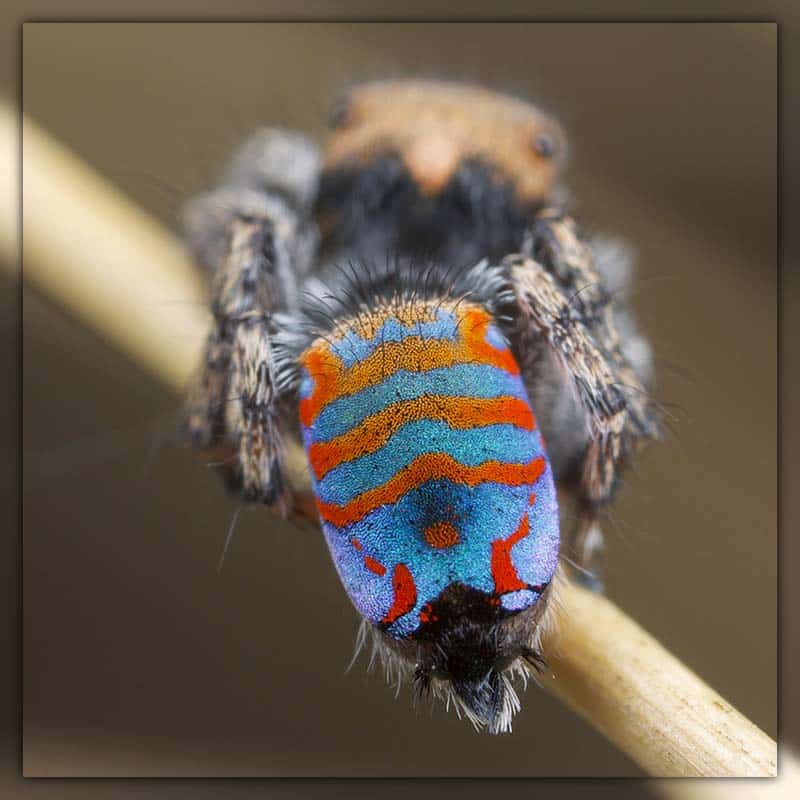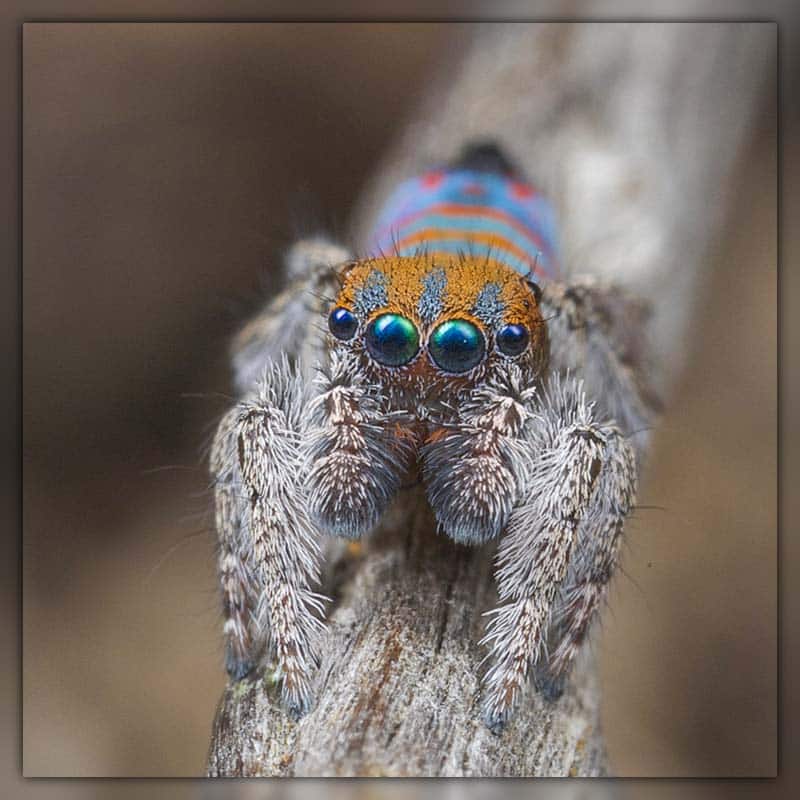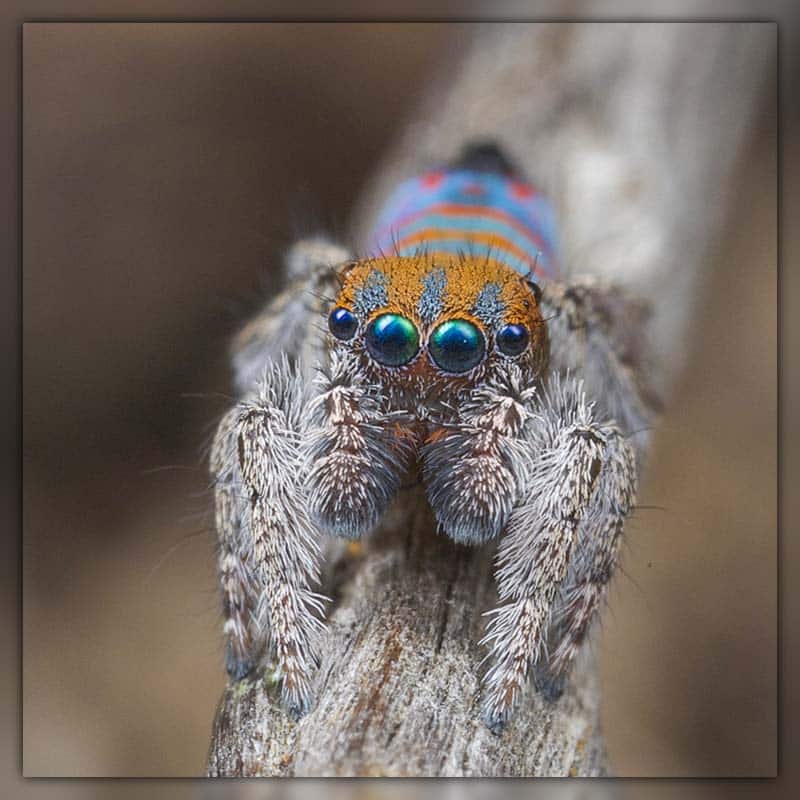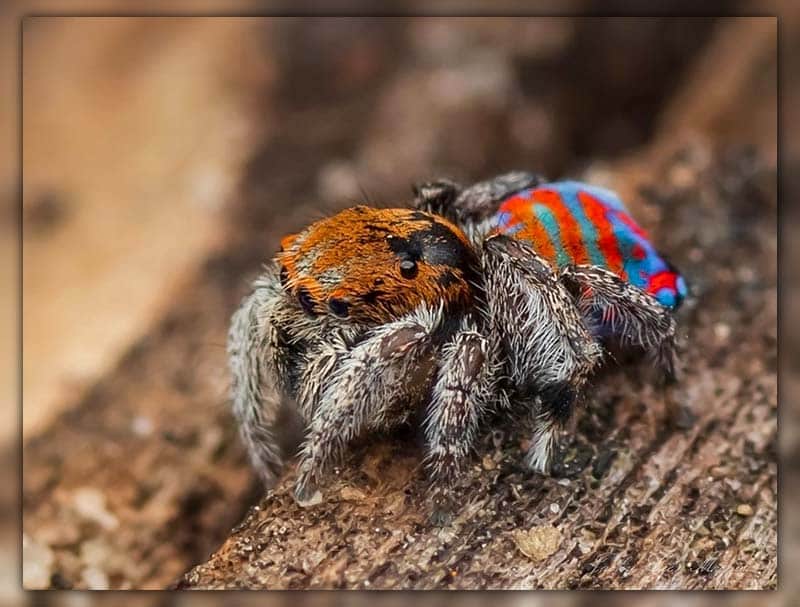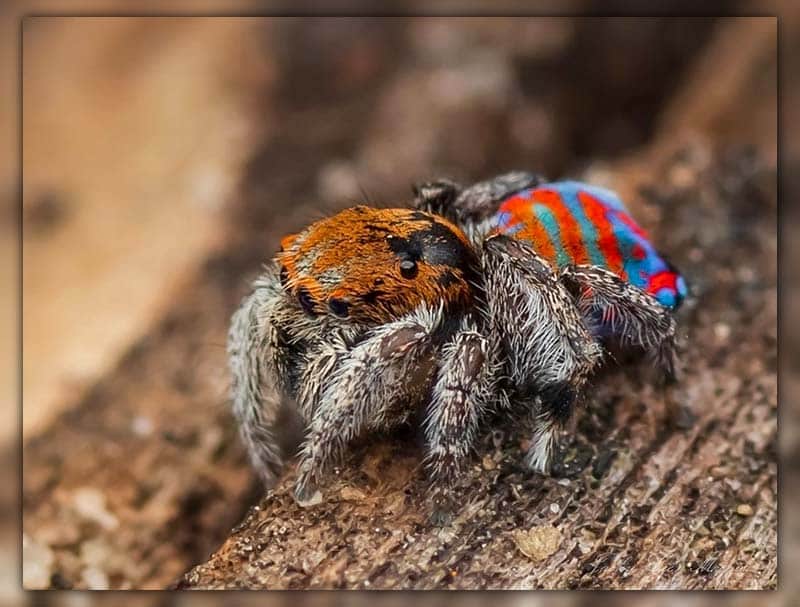 Regal Jumping Spider – Phidippus Regius (Top #2)
Taking the silver medal in our list is the majestic Regal Jumping Spider, also known as Phidippus Regius. This spider is most commonly found in the Southeastern United States and is recognized as one of the largest species of jumping spiders. 
The Regal Jumping Spider, true to its name, has a regal air about it. With its black body and white markings, it's not just its size that's impressive, it's also its color pattern. This spider carries itself with an air of grace and, combined with its big eyes, it exudes an adorable charm that's hard to ignore. The regality and cuteness of this spider make it worthy of the number 2 spot on our list.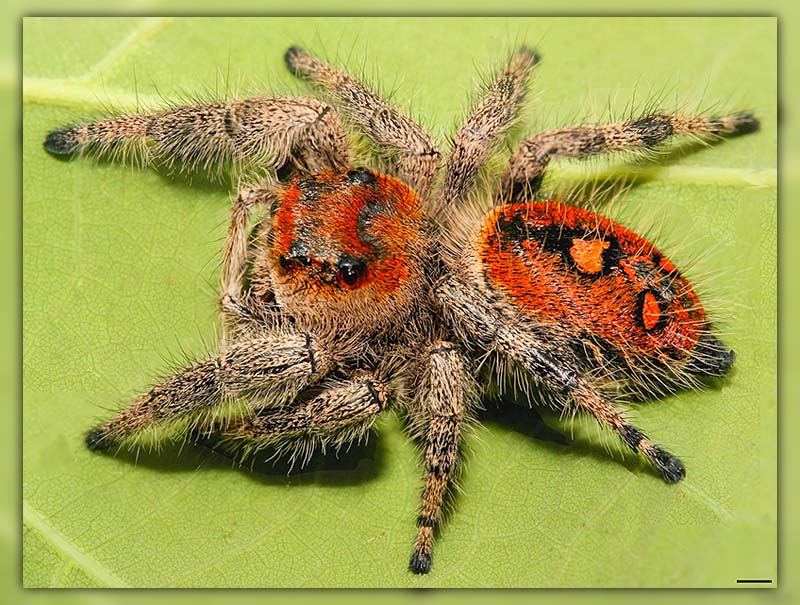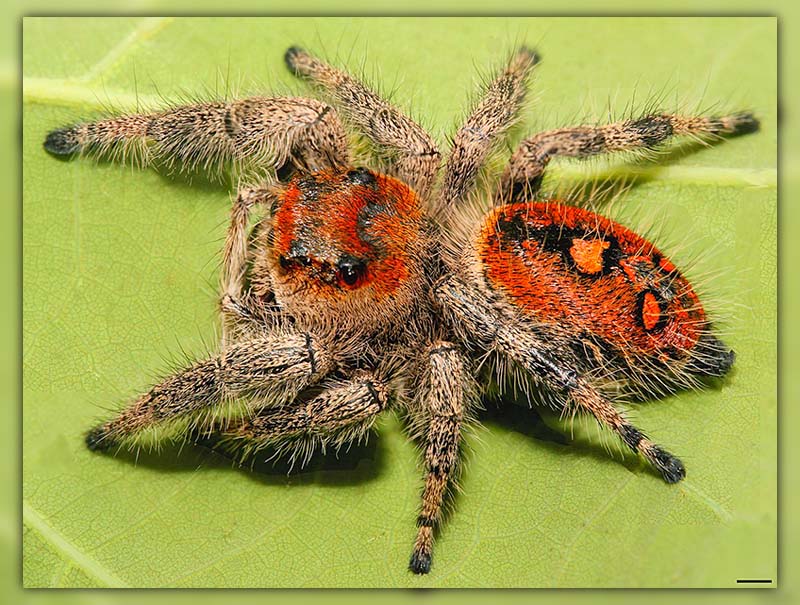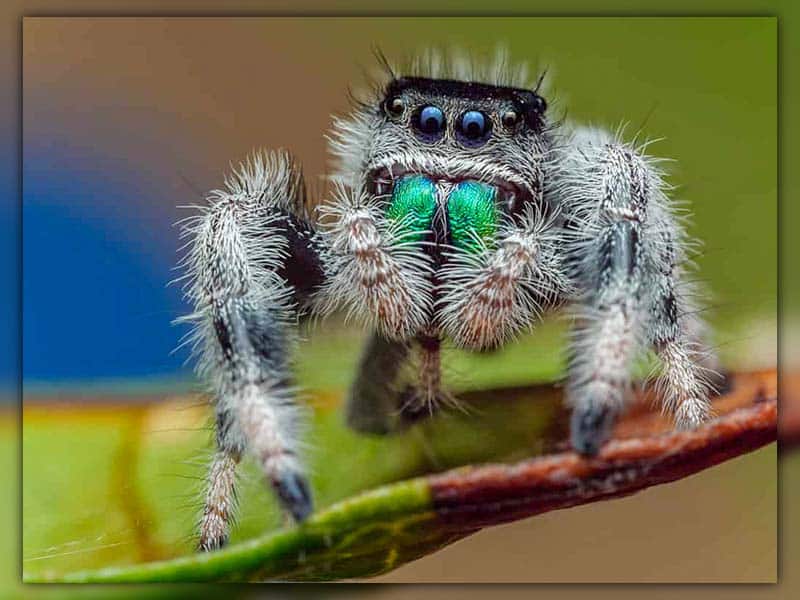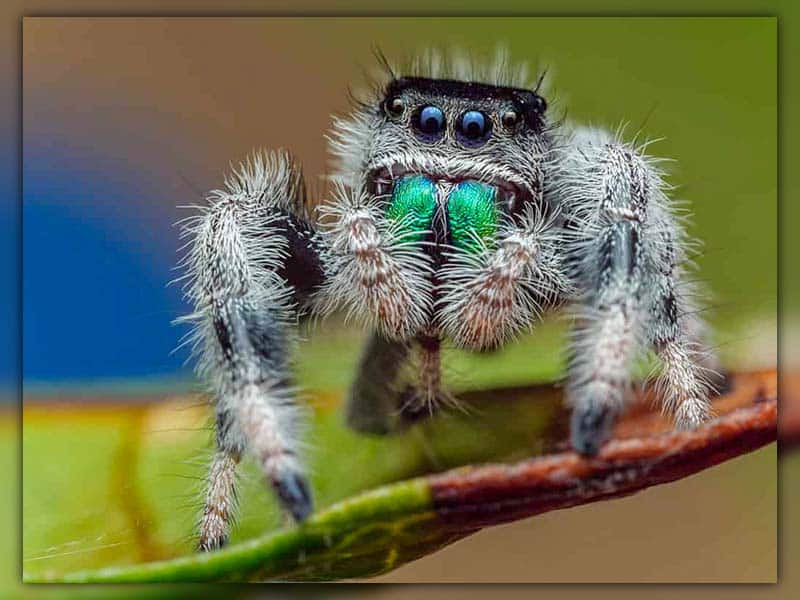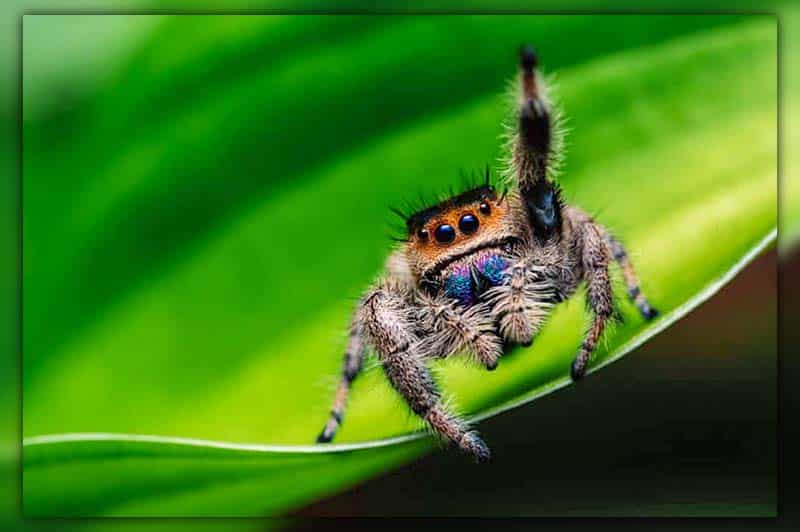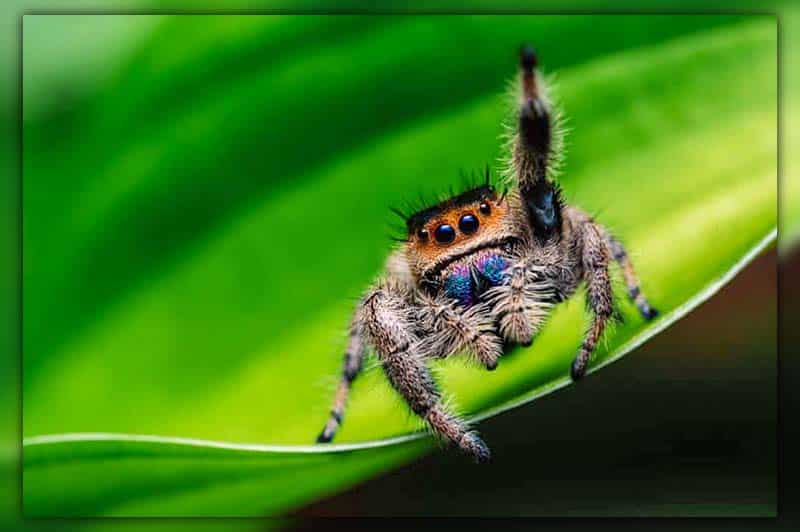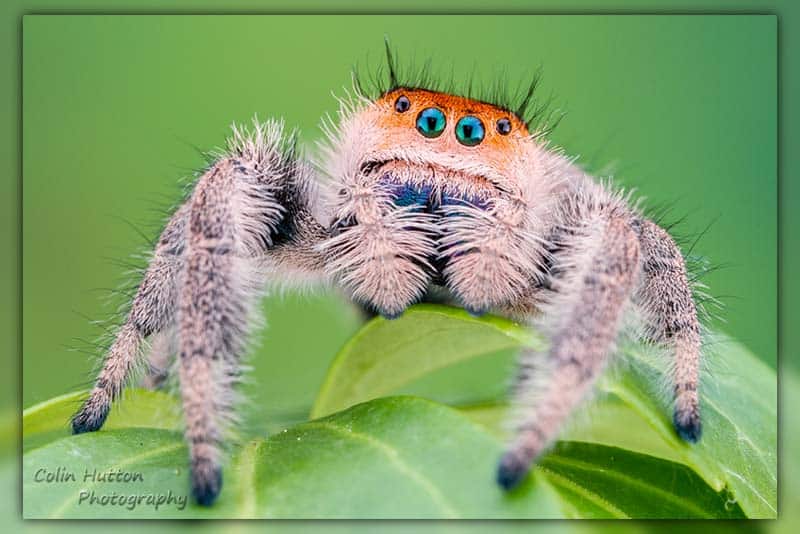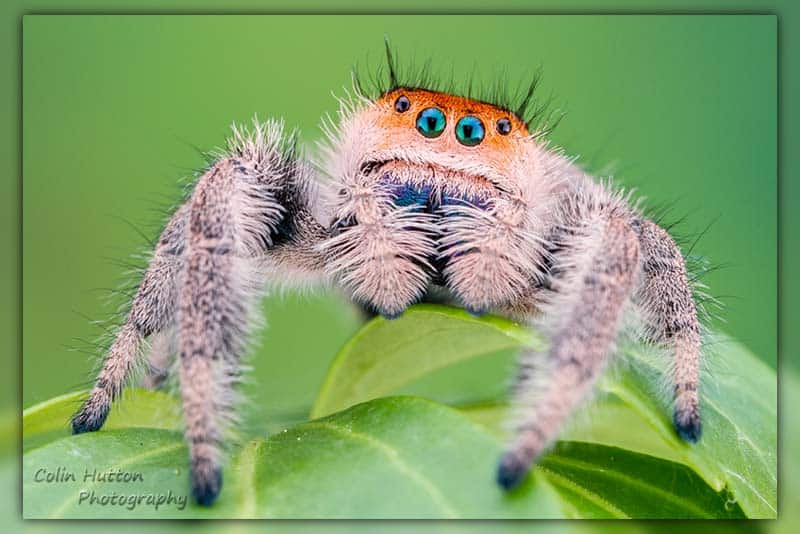 Bold Jumping Spider – Phidippus Audax (Top #1)
And now, the moment you've all been waiting for, the cutest jumping spider in the world – the Bold Jumping Spider, scientifically known as Phidippus Audax. This spider is common in North America and is known for its distinctive, bold behavior. 
The Bold Jumping Spider sports a shiny black body with a distinct white or orange-tinted pattern. But what makes this spider top our list? It's their captivating, bold eyes! They have some of the biggest eyes in the jumping spider family, which give them an almost puppy-like look.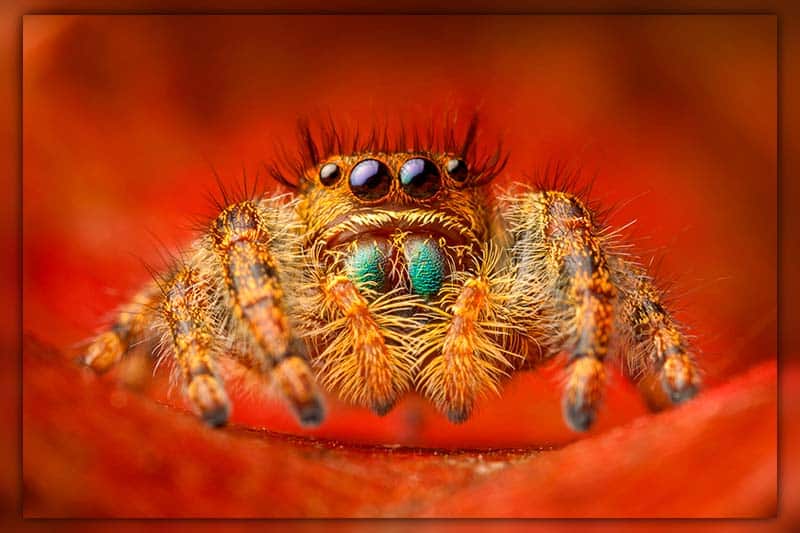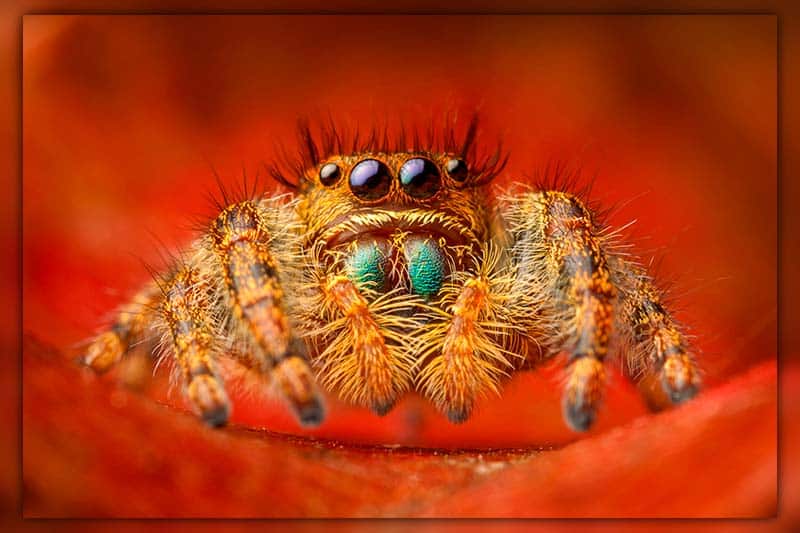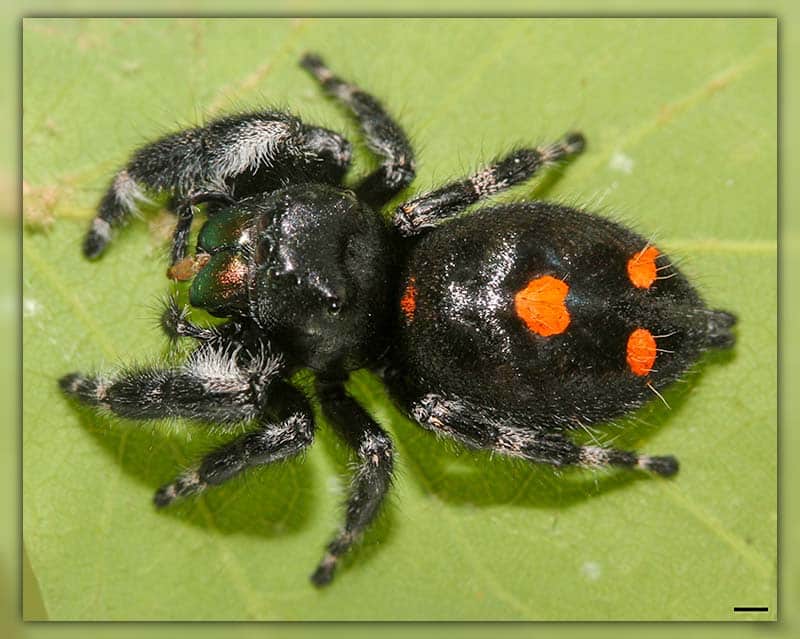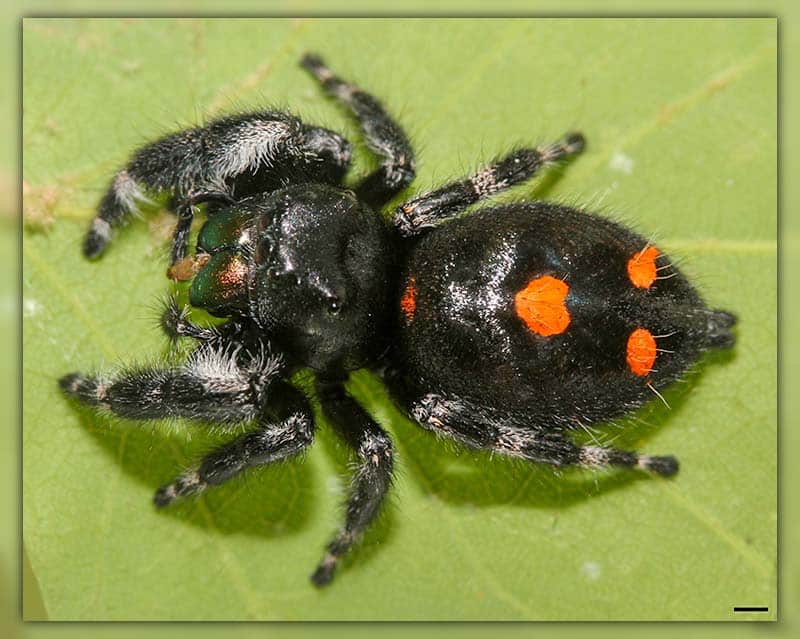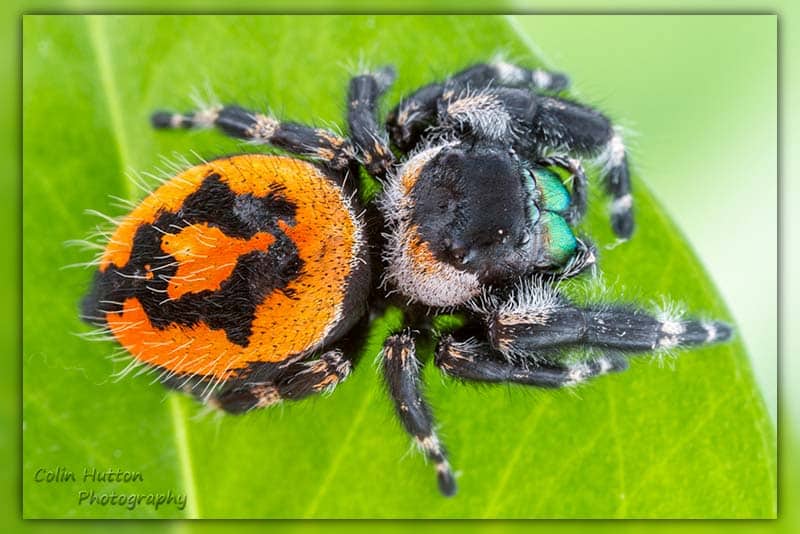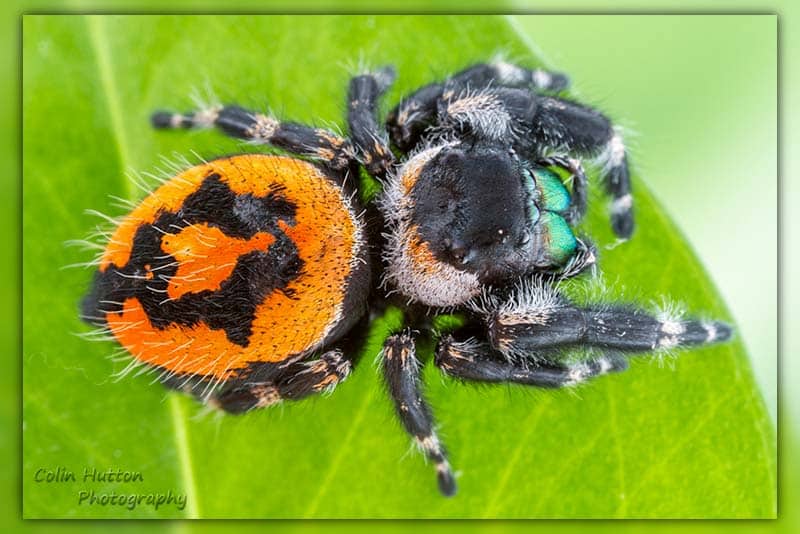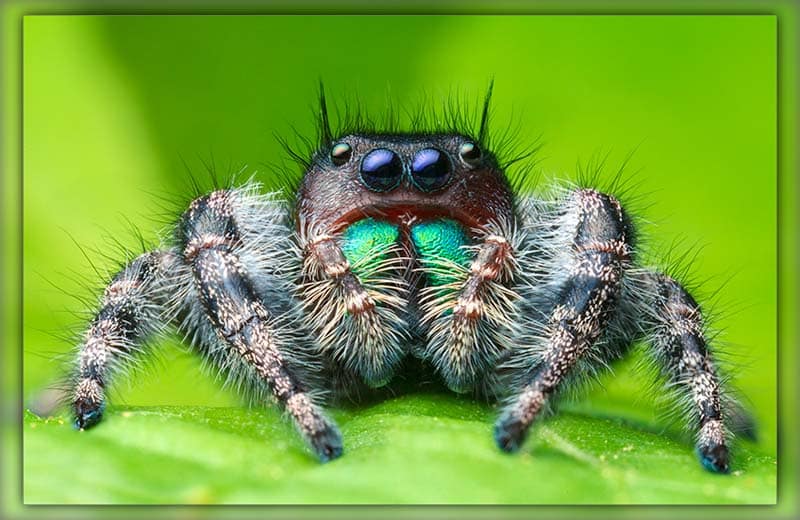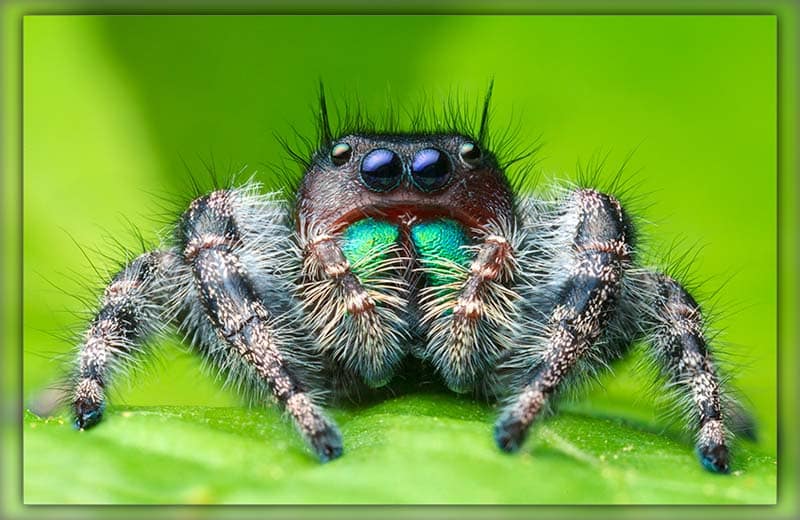 Furthermore, their curious nature, fearlessness, and exceptional jumping abilities make them very endearing. Yes, they're spiders, but they're so cute, and their behavior is so peculiar, you can't help but admire them. 
FAQs
You've met the cutest jumping spiders, but do you have more questions about them? Let's answer some of the most frequently asked questions about these adorable creatures! 
Are Jumping Spiders Friendly?
Indeed, jumping spiders are friendly towards humans. They are known to be curious creatures and sometimes even interact with people. They are more interested in observing and learning about their surroundings than harming anyone. 
Are Jumping Spiders Dangerous?
In general, jumping spiders are not dangerous to humans. While they are venomous (like most spiders), their venom is not harmful to humans unless you happen to be allergic. They typically only bite if they feel threatened and cornered. 
Are Jumping Spiders Poisonous?
As we just mentioned, jumping spiders are venomous, but not poisonous. Being venomous means they can deliver their venom through a bite, but being poisonous means harmful if eaten or touched, which is not the case for jumping spiders. 
What is the Lifespan of a Jumping Spider?
The lifespan of a jumping spider varies with different species, but on average, they live for about a year. Some species can live up to a few years under ideal conditions. 
Can Jumping Spiders Make Good Pets?
Jumping spiders are often kept as pets by enthusiasts due to their friendly and curious nature. They require a small space and basic care. However, always remember they are wild animals, and their needs should be met appropriately. They are not traditional pets and are best appreciated in their natural habitats. 
Where Can I Find These Cute Jumping Spiders?
Jumping spiders live in various habitats all around the world. You can find them in gardens, walls, forests, mountains, and even deserts. However, remember to respect their space and observe them without disturbing their natural behavior. 
Jumping spiders are indeed cute, but they're also fascinating creatures with their unique behaviors and important roles in our ecosystem. Let's appreciate these cute little jumpers and their contributions to the world!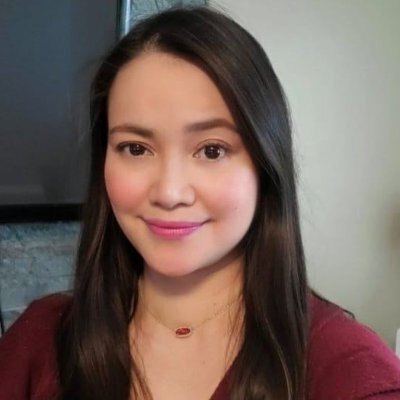 Calina Mabel has over 15 years of experience in the field of journalism and communications. Currently, Calina Mabel is the Content Writer for categories such as Cockroach, Ants, Bed Bugs, Mosquito, Rodent, Termite, and Flies on Pestweek.com. She aims to build content for these categories with a focus on providing valuable and accessible information to readers, in order to create the world's largest knowledge community about Pests.
All content written by Calina Mabel has been reviewed by Emily Carter.